Genshin Impact Xingqiu build turns the swordsman into a godlike support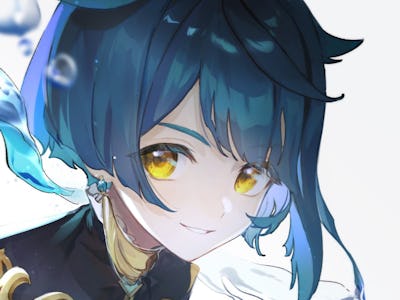 It's no exaggeration to say that Xingqiu is one of the strongest four-star characters in Genshin Impact. His Hydro skill and burst let him punch well above his weight, comboing elemental reactions with other characters while also providing you with both shields and heals. It's make him the perfect sub-DPS and support character.
Xingqiu was definitely one of the best free characters available during the Lantern Rite, but if you didn't grab him then, you've still got another chance during the Irodori Festival event. With the Ayaka rerun, Xingqiu might just be the perfect character for a freeze combo, especially if you didn't manage to get Ayato this time around.
With both Yelan and Kuki Shinobu coming in Genshin Impact 2.7, there's no better time to build your party. But strong characters need strong builds, too. In this Xingqiu build guide, I'll go through his top-tier setup as a sub-DPS and support, as well as some free-to-play options if you're strapped for weapons.
The best Genshin Impact Xingqiu build
Xingqiu's strength as a sub-DPS and support come from his Fatal Rainscreen skill and Raincutter burst. The skill hits enemies with an upwards Hydro slash that deals decent damage and creates three rain swords that reduce incoming damage from enemies. His burst also summons the swords, and follows up regular attacks with flying Hydro bolts. These bolts fire even when Xingqiu isn't on the field, making them great for comboing elemental reactions with other characters.
With this in mind, you'll want to ensure Xingqiu can use his skill and burst as much as possible, while also boosting the damage that he can deal. This build should do both:
Weapon: Sacrificial Sword
Artifact: (4) Emblem of Severed Fate
Five-star weapons in Genshin are usually tailored more towards DPS, which is why four-star weapons often work just as well for support characters. In this case, the Sacrificial Sword is a great pick for Xingqiu. This blade boosts energy recharge as a substat, which means he can use his burst more, but also when you deal damage with a skill there's a 40 percent chance to end its cooldown straight away. This can happen once every 30 seconds, and means you can use Xingqiu's skill twice in quick succession for some great damage and energy recharge.
Another four-star weapon choice is the Favonius Sword. While less preferable than the Sacrificial Sword, it also boosts energy recharge, and gives crits a 60 percent chance to produce energy particles every 12 seconds. If you do use this weapon, make sure to build crit rate and crit damage so you can maximize this ability.
For artifacts, you'll want four pieces of Emblem of Severed Fate. The set is great for both energy recharge and burst damage, making it perfect for Xingqiu. Two-pieces boost energy recharge by 20 percent, while four-pieces increase elemental burst damage by 25 percent of overall energy recharge. There's a max buff of 75 percent available this way, but it allows you to build both damage and energy recharge at the same time.
In terms of stats, energy recharge is important in order to maximize that artifact buff, and you'll also want a Hydro damage bonus artifact if you can get one. Xingqiu already gets a 20 percent Hydro damage bonus from his Blades Amidst Raindrops passive, so anything you can add to that makes him all the more powerful. You'll also need crit rate, crit damage, and attack. Xingqiu's Hydropathic passive means that his rain swords heal 6 percent of his HP when shattered, so if you want to increase healing potential you can also build HP. Using Xingqiu as a healer is a bit of a waste, though.
Genshin Impact Xingqiu F2P build
If you don't have the Sacrificial Sword, there is an okay three-star option for Xingqiu in terms of weapons:
Weapon: Skyrider Sword or Festering Desire
Artifact: (4) Emblem of Severed Fate
The Skyrider Sword is a decent three-star for Xingqiu since it boosts energy recharge. When you use an elemental burst, it also grants a 12 percent increase in attack and movement speed, letting you get more aggressive. If you have the free four-star sword from The Chalk Prince and the Dragon event, Festering Desire, then this is also a great choice for Xingqiu, as it boosts elemental skill damage by 16 percent, and crit rate by 6 percent. If you've been playing Genshin that long, though, chances are you'll already have a Sacrificial Sword.
Emblem of Severed fate isn't hard to get in terms of artifacts, and is still a great choice for Xingqiu. If you don't have a full set, you could add in two-pieces of Heart of Depth for the 15 percent Hydro damage bonus, or two-pieces of Noblesse Oblige for the 20 percent burst damage boost. For stats, you'll want the same as above in terms of energy recharge, crits, and attack, though energy recharge will be less of a priority if you don't have four-pieces of Emblem of Severed Fate.
And those are our best Genshin Impact Xingqiu builds. We hope you manage to grab him at the Irodori Festival!
This article was originally published on