Genshin Impact Version 2.5 release date, leaks, and character banners
A long-awaited character will finally make her debut.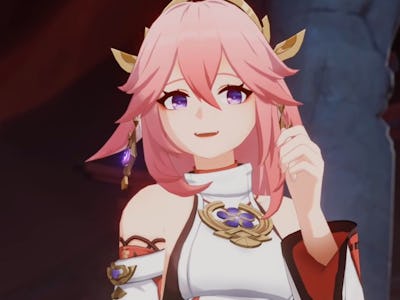 miHoYo
The next major Genshin Impact update is Version 2.5, and it will bring new characters, events, weapons, and rewards for players to earn. We're still in the midst of Version 2.4, but as always, leaks and rumors about the forthcoming update have already begun swirling. But thanks to an official announcement from miHoYo, we now know much more about the upcoming Version 2.5, and there's plenty to be excited about. So let's dig in, Traveller!
When is the Genshin Impact Version 2.5 release date?
Developer miHoYo has confirmed that Genshin Impact Version 2.5 will launch on February 16, 2022.
This release date is in line with the game's six-week schedule, giving its player-base a stream of updates at consistent intervals. Many new details were revealed during the recent 2.5 livestream event, which gave a first look at what to expect from the new update.
What time will the Genshin Impact Version 2.5 maintenance end?
With the release of each major Genshin Impact update comes a maintenance period the same day, typically lasting anywhere from four to five hours. During the maintenance period, the game goes offline, allowing the developers to get things ready for the update.
Oftentimes, the maintenance period ends at around 11 p.m. Eastern — sometimes earlier — on the day of the update. In this case, you should expect to play Version 2.5 on the night of February 16 if you live in the United States.
What are the Genshin Impact Version 2.5 maintenance rewards?
To compensate for taking the game offline, miHoYo rewards all players with 300 Primogems. This equates to around 60 Primogems for each hour the game is offline. As a reminder, you must claim this reward within 30 days after the update.
Is there a Genshin Impact Version 2.5 trailer?
There is a trailer and it's called "When the Sakura Bloom." In it, miHoYo shows off some of the new features including a look at Yae Miko, along with the upcoming events, weapons, and the story. It seems like things are dire in Enkanomiay, so it's up to you to rid the land of darkness.
What are the Genshin Impact Version 2.5 character banners?
Leaks and rumors pointed to a number of characters being added as part of Version 2.5, including Yae Miko. It turns out the leaks were right (as they often are). We've known about this Five-star character for a while now, but on December 31, miHoYo finally confirmed her existence and recently confirmed her attributes and features.
Yae Miko is a Five-star Electro Catalyst user who will be a force to be reckoned with on the battlefield. You'll be able to play through new Yae Miko story quests once following the update's launch. Developer miHoYo also noted that her Event Wish will go live "in the early stage of the update."
Joining Yae Miko is Raiden Shogun and Sangonomiya Kokomi, both of which are reruns. Raiden Shogun is also a Five-star Electro character, but wields a polearm instead. Sangonomiya Kokomi, on the other hand, is a Five-star Hydro Catalyst user.
What are the Genshin Impact Version 2.5 updates?
New characters aren't the only things you can expect with Version 2.5. One of the highlights this time around is the "Three Realms Gateway Offering" event, which requires players to explore areas based on Enkanomiya while navigating through corrosive darkness.
You'll also encounter new enemies across Inazuma, such as foes that appear underwater. One of the new enemies is called Trounce Domain, found in Raiden Shogun's Story Quest.
Another event called Divine Ingenuity will allow players to create and share their own domains, giving free rein to add different traps and mechanisms with many other customization options in between.
Other things to look forward to include Of Drink A-Dreaming, featuring a fun-looking minigame that requires players to make drinks; a fishing tournament called Hyakunin Ikki; and new weapons such as Kagura's Verity and Oathsworn Eye.
What are the Genshim Impact Version 2.5 leaks?
Aside from details about the upcoming character banner, leaks pointed to a new boss, map alterations, and events, as well. For instance, Twitter user @genshinBLANK leaked images of the upcoming Enkanomiya Map, depicting the layout, with various waypoints.
Raiden Shogun will supposedly be a new weekly boss, at least according to Twitter user @Genshinmains. Custom domains were also previously leaked by Twitter user @Genshin_Intel, which ended up being true, as confirmed by miHoYo.
This article was originally published on