How to Make the Most of Furina, Genshin Impact's Eccentric Hydro Archon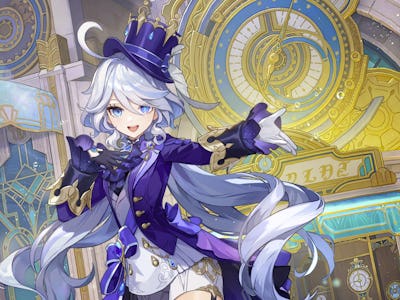 HoYoverse
It's always an event when a new character is added to Genshin Impact, but it's an especially rare occasion to see a new Archon join the roster. Version 4.2 finally brings Fontaine's Hydro Archon to players' hands with the introduction of Furina as a playable character. While she's been a star of the Fontaine Archon Quest, she's equally impressive on (and especially off) the battlefield. If luck is with you and Furina comes home during her character banner, you will want to treat her well.
Here's how to build Furina in Genshin Impact.
How to Build Furina in Genshin Impact
Furina is a five-star Hydro character whose skillset prioritizes Elemental Skill DMG. Furina's skillset revolves around HP-draining and filling the Sub-DPS role through mostly off-field damage dealing. She also serves as a great Support with plenty of damage buffs. When built to her full potential, Furina is easily one of the best characters in the game (fitting for the Hydro Archon) in the Sub-DPS/Support role, making her an appealing addition to most teams — if not the centerpiece of great team builds.
Best Weapons for Furina
As a five-star character, Furina has a Signature Weapon available on the Epitome Invocation limited Wish during phase 1 of version 4.2. "Splendor of Tranquil Waters" increases the wearer's DMG based on how much HP the wearer and allies lose or gain, which, when paired with Furina's HP-draining abilities, turns her into a DPS powerhouse. Another good five-star option is "Key of Khaj-Nisut."
If you haven't had enough luck to gather these five-star Weapons, then "Festering Desire" or "Fleuve Cendre Ferryman" are both great four-star alternatives that complement Furina's skills.
5-Star Weapons
Splendor of Tranquil Waters – When the equipping character's HP increases or decreases, Elemental Skill DMG dealt will be increased by 8 percent for 6s. Max 3 stacks. This effect can be triggered once every 0.2s. When other party members' HP increases or decreases, the equipping character's Max HP will increase by 14 percent for 6s. Max 2 stacks. This effect can trigger once every 0.2s. The aforementioned effects trigger even if the wielder is off-field.
Key of Khaj-Nisut – HP increased by 20 percent. When an Elemental Skill hits opponents, you gain the Grand Hymn effect for 20s. This increases the equipping character's Elemental Mastery by 0.12 percent of their Max HP. This effect can trigger once every 0.3s. Max 3 stacks. When this effect gains 3 stacks, or when the third stack's duration is refreshed, the Elemental Mastery of all nearby party members will increase by 0.2 percent of the equipping character's max HP for 20s.
4-Star Weapons
Festering Desire – Increases Elemental Skill DMG by 16 percent and Elemental Skill CRIT Rate by 6 percent.
Fleuve Cendre Ferryman – Increases Elemental Skill CRIT Rate by 8 percent. Additionally, it increases Energy Recharge by 16 percent for 5s after using an Elemental Skill.
Best Artifacts for Furina
When it comes to Artifacts for Furina, focus on sets that boost her Elemental Skill DMG. The best option is the four-piece Golden Troupe set. Equipping this set increases Elemental Skill DMG by 25 percent, another 25 percent when not on the field, and is cleared 2s after taking the field. This offers Furina the best possible Elemental Skill DMG boost from Artifacts, especially when off the field.
Best Teams for Furina
There are several ways to build a team around Furina, but perhaps the most common will be an HP-drain-focused roster to best complement Furina's skills and potential as a Sub-DPS who contributes most when off-field. A great setup for this style of team is to have Neuvillette, Lyney, Hu Tao, or Xiao act as the main DPS. An additional Sub-DPS in the form of Kazuha or Xiangling and then a support like Baizhu, Charlotte, or Jean to round out the team.
Other popular options for Furina are Bloom and Hyperbloom teams. The best way to make this type of build is to pair Furina with Alhaitham, Nahida, and Shinobu.
If you want what is perhaps the ideal build for Furina, then pair her with Neuivillette, Baizhu, and Kazuha. This gives you the best of an HP-drain and Bloom team builds.
Genshin Impact is available on PlayStation, iOS, Android, and PC.