Everything we know about Genshin Impact version 1.3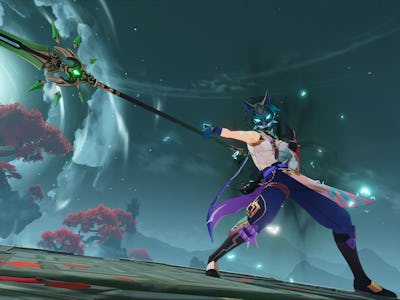 Genshin Impact developer miHoYo won't stop updating this game. Approximately every six weeks, miHoYo releases an update for their flagship game. Version 1.3 is the third major update to Genshin Impact and is set to launch in February. The update will bring brand new events and characters.
Here's everything we know about Genshin Impact version 1.3 and what's to come in 2021.
When is the Genshin Impact 1.3 update release date?
According to the recent Version 1.3 Livestream, the update will arrive on February 3, 2021.
Due to time zone differences, North American players will likely be able to update their game a bit sooner than that, making it available during the evening of February 2, 2021.
Is there a Genshin Impact version 1.3 trailer?
Yes! You can watch the trailer below.
In the trailer, we get a broad look at the imminently available additions coming in update 1.3. Firstly, the trailer shows us the Lantern Rite Festival event which will last throughout Version 1.3. We also receive shots of the new explorable ruin area in Liyue, which is home to the new Geovishap enemy.
The trailer transitions to showing some gameplay of the new playable Adeptus character, Xiao. Additionally, there's a look at Theater Mechanicus, the upcoming tower defense minigame coming with the update.
When are the Genshin Impact version 1.4 and 1.5 release dates?
We don't yet have firm release dates on Genshin Impact version 1.4 and 1.5, but miHoYo has said they want to release updates every six weeks.
If we use version 1.3's release date, Genshin Impact version 1.4 will debut on March 13, 2021, and Genshin Impact version 1.5 will debut on April 22, 2021.
According to certain rumors, version 1.4 will feature the return of Venti and the Mondstadt Windbloom Festival.
Who are the new Genshin Impact version 1.3 characters?
We currently know that version 1.3 will come with Xiao, the Anemo Adepti from Liyue who fights with a polearm.
In Japanese, Xiao will be voiced by Yoshitsugu Matsuoka. You might know him from a plethora of prolific roles in anime like Kirito in Sword Art Online, Soma from Shokugeki no Soma, and Inosuke from Demon Slayer to name a few. In English, Laila Berzins will voice the character. You might know her from portraying Demeter and Persephone in Hades or from her role as Milluki Zoldyck in Hunter x Hunter.
Some leaks stated that the update would also include Hu Tao, a Pyro Polearm user known for her pranks. However, they weren't announced in the Genshin Impact live stream, so it's unknown when Hu Tao will be made available.
From what we know, Hu Tao will be voiced by Rie Takahashi who previously voiced anime characters like Megumin from Konosuba, Emilia from Re: Zero, and Peni Parker in the Japanese dub of Into The Spider-Verse. In English, Hu Tao will be voiced by Brianna Knickerbocker. She previously portrayed characters like Rem from Re:Zero and Tuesday from Carole & Tuesday.
What is the Lantern Rite Festival in Genshin Impact version 1.3?
The Lantern Rite Festival is the main event in version 1.3. It's centered on both wish making and the character Xiao. It previously existed during Genshin Impact's beta phase in early 2020, so this will mark its debut in the full game.
During the beta, the event came to celebrate the first full moon of the new year, similar to Lunar New Year festivals. For the festival, Liyue's denizens release lanterns containing a wish for the year.
The event will provide a bounty of rewards. You'll be able to earn up to 1600 Primogems for completing every available task. You can also select one free four-star character between Xiangling, Xinyan, Beidou, Ningguang, Xingqiu, and Chongyun.
Learn more about the Lantern Rite Festival right here.
What other events will be in Genshin Impact version 1.3?
While the Lantern Rite Festival is the primary attraction, numerous other events will be available in version 1.3. We don't have dates yet, but these are events that we know are coming in version 1.3
Five Flushes of Fortune: You'll earn Primogems and Kamera filters by taking photos around Teyvat. You'll be able to trade rewards with your friends.
May Fortune Find You: For logging on, you'll earn up a free Intertwined Fate every day.
Vishaps and Where to Find Them: Using this event, you'll be able to fight the brand new enemy, the Geovishap, which is essential for upgrading Xiao. This will also unlock new special event expeditions for your characters to explore.
Leyline Overflow: For the duration of this event, the first three leylines you complete will provide double the reward.
What changes will come in Genshin Impact version 1.3?
The biggest changes coming in Genshin Impact version 1.3 are the buffs to Zhongli and the Geo element. Due to players' disappointment following Zhongli's debut in December, miHoYo plans to boost the character's damage-dealing potential, as spelled out in two blog posts:
Normal, charged and plunging attack damage will be increased by 1.39 percent of Zhongli's max HP
Stone Stele initial damage, Stone Stele Resonance, and Dominus Lapidis (Elemental Skill) Hold activation DMG will be increased by 1.9 percent of Zhongli's max HP
The above effects are added to his passive ability "Dominance of Earth," while the Planet Befall bonus is still set at 33 percent.
Dominus Lapidis hold activation will now spawn a Stone Stele if the maximum number of stele hasn't been reached yet. The ability's interruption resistance will also be greatly increased.
When a character is protected by the Jade Shield provided by Dominus Lapidis hold, opponents within a set radius have all Elemental Resistance and Physical Resistance decreased by 20 percent.
Mihoyo also plans to buff the Geo element in two significant ways:
All Geo Shields (Zhongli's Jade Shield, Noelle's Breastplate, Crystallized Geo Shield) no longer have a 250 percent absorption effectiveness against Geo Damage. Instead, they have 150 percent absorption effectiveness against Physical and Elemental Damage.
Geo Elemental Resonance, "Enduring Rock" will increase shield strength by 15 percent. Shielded characters will have their damage increased by 15 percent but also decrease the Geo resistance of enemies hit by 20 percent for 15 seconds. Note: you will no longer have interruption resistance with the resonance.
These changes will make Geo a far more formidable element and Zhongli a legitimately terrifying character, putting him on par with Venti or at least very close to Venti.
Version 1.3 will also feature quality of life additions. There's now a "Living Beings" category in the archive, creating a visual dictionary of all wildlife and foes that you've encountered. Travelers will be able to create more robust public profiles by showcasing select characters from your roster. The update will also let you show select in-game stats on your profile like Spiral Abyss progress, achievements, and character builds.
Notably, there will be new items simplifying the character ascension process. Dust of Azoth will allow you to change ascension materials of one element to another, avoiding the farming process. There will also be a new item called the Parametric Transformer that will let you transmute excess ascension materials into something more helpful to your current character.
Will Genshin Impact version 1.3 add more Story Quests?
Yes! It will add a new story quest focusing on Xiao. You'll be able to unlock Xiao's story quest at Adventure Rank 23 for the duration of the Lantern Rite Festival. Following the event's conclusion, the Adventure Rank needed for Xiao's story quest will be raised to 32.
Will Genshin Impact version 1.3 add new regions?
No, not according to the information currently available. Version 1.3 only seems to expand regions that are already explorable. There will certainly be a few new locations, but nothing as expansive as Dragonspine will be added.
Read also: Wishes, banners, pity, and everything to know about Genshin Impact gacha
This article was originally published on