Can't Wait for Starfield? 10 Spacefaring Epics on Xbox Game Pass Right Now
This expansive list will hold you over until Bethesda's next RPG.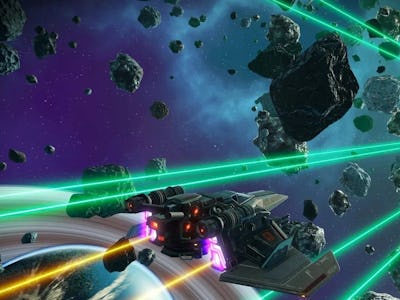 HelloGames
There's no shortage of exciting video game releases on the horizon, and few are as highly anticipated as Starfield, the next game from Skyrim developer Bethesda. Starfield is a space RPG that will borrow from the studio's past games, with shooting, exploration, and progression at the forefront. Since Starfield's September 2023 release is still lightyears away, why not dive into some other space epics to hold you over in the meantime? To make it even more enticing, this list will cover 10 of the best space titles available on Xbox Game Pass, so you won't need to spend an extra penny.
10. Mass Effect: Legendary Edition
Featuring the three games that make up the original trilogy, Mass Effect: Legendary Edition compiles what is often referred to as the greatest space RPG series ever. Mass Effect, Mass Effect 2, and Mass Effect 3 all come together to tell an epic story, with well-written characters, and choices that matter. What's fascinating is that the choices you make in the first game carry over to the second and third, offering weight and gravity to the decisions you make. But beyond that, its third-person shooter mechanics are satisfying, as is the series' progression system.
9. Outer Wilds
Outer Wilds (not to be confused with The Outer Worlds) throws you into a 22-minute time loop, with the goal of discovering as much information as possible before the sun explodes. As you explore the universe, you learn more about the game's story and uncover new clues to solve puzzles that advance the plot. It's a refreshing gameplay loop with a huge payoff at the end.
8. Star Wars: Squadrons
Perhaps you're looking for something a bit more action-packed. If so, we recommend Star Wars: Squadrons, a space combat game that takes place after the events of Return of the Jedi. We know Starfield will feature space combat, so Star Wars: Squadrons will no doubt get you ready for all the ship battles ahead. What's cool about this game is that you can take on the role of either the Galactic Empire or the New Republic, giving you multiple perspectives throughout the campaign.
7. Exo One
In Starfield, exploration is seemingly at the forefront, and if that's something you're excited about, you might like Exo One. While Exo One doesn't focus on combat, it does prioritize exploration, allowing players to pilot an alien ship and use it to visit different planets throughout the universe. It's more of a relaxing experience that is more about taking in the sights and sounds and less about completing objectives.
6. The Outer Worlds
While we haven't played Starfield just yet, it seems like it will be closest to The Outer Worlds, out of all the games on this list. The Outer Worlds is a space RPG with shooter elements that feels a lot like Fallout. In fact, it's developed by Obsidian Entertainment, the team behind Fallout: New Vegas. In it, you explore different planets, embark on various quests, engage with NPCs, and fight a vast array of aliens across many different worlds.
5. Hardspace: Shipbreaker
There really isn't anything quite like Hardspace: Shipbreaker. As its name suggests, this game is all about dismantling or breaking down ships and disposing of the parts in various receptacles. In the same way that PowerWash Simulator is a simulator about power-washing, Hardspace: Shipbreaker is a dismantling sim that feels almost zen-like at times. Floating through space and cutting down ship parts is oddly soothing and immersive, and though it'll likely play nothing like Starfield, it's still a great space game.
4. Stellaris: Console Edition
Stellaris: Console Edition is as epic as you want it to be, as this grand strategy game allows you to take over the universe by colonizing various planets. Sure, the PC version is the definitive way to play, but it's remarkable how well Stellaris works on a console. It's absolutely massive, allowing players to create their own civilizations and then offering the freedom to pretty much do whatever—from developing new technology to battling other races, and so much more.
3. Prey
Based on what we've seen of Starfield so far, it seems to have a lot in common with 2017's Prey, a game published by Bethesda. In Prey, players explore a deadly space station while taking out enemies and uncovering the game's many mysteries. It has light RPG elements with a great emphasis on combat, while also nailing its creepy, atmospheric tone. While we don't know everything about Starfield's tone, it seems to be somewhat similar to Prey's.
2. Star Wars Jedi: Fallen Order
It's almost impossible to discuss space without mentioning Star Wars, and arguably the best game in the series is Jedi: Fallen Order. This is an action-adventure game that leans into combat and exploration across various planets. Its story is canon and takes place five years after Revenge of the Sith, with an all-new Jedi Padawan named Cal Kestis. It's wonderfully refined and feels satisfying thanks to its challenging, yet fair action combat. Its sequel, Jedi: Survivor will launch on April 28, 2023.
1. No Man's Sky
When it comes to nailing the sheer vastness of space, no game does it quite like No Man's Sky. What started out as underwhelming eventually became one of the best space games ever created. One of its best aspects is that it offers so many ways to play, allowing you to build bases, survive on deadly planets, interact with wild NPC, and embark on space missions with friends across the universe. No Man's Sky is impossibly large, with 18 quintillion planets to explore.