The Game Awards Nominees Reveal The Event's Biggest Blind Spot
You can't please everybody.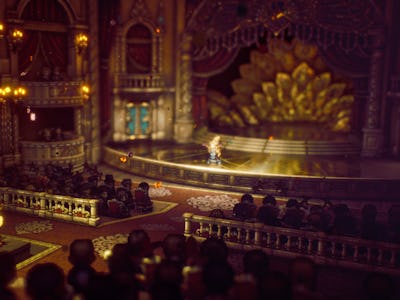 Square Enix
The Game Awards are less than a month away, and we now have the official nominations list for this year's awards show. While that means we know what games to catch up on that may have slipped through the cracks earlier this year it also means that everybody has opinions on what should have or should not have taken a spot on the very limited list of nominees. And while it's impossible for everybody to be happy, there are some snubs and surprises that feel pretty obvious. Let's run down what we think are the biggest snubs and surprises of the 2023 Game Award nominations.
Surprise: Recency bias does wonders for Game of the Year contenders
Game of the Year was always going to be the hardest category to nail down this year. For a while there, it seemed like great games just wouldn't stop coming out. It looks like games that waited to be released in the last couple of months got an edge over their competitors. Alan Wake 2, Super Mario Bros. Wonder, and Marvel's Spider-Man 2 were all released in October and secured nominations. The biggest surprise out of these three is Wonder, which beat out the likes of Armored Core VI: Fires of Rubicon and Final Fantasy XVI.
Snub: One of the year's best RPGs is forgotten
Recency bias may not have been a friend to Octopath Traveler II as it was disappointingly absent from this year's nominations. Perhaps it didn't win because the game was released way back in February. The second title in Square Enix's delightful retro series was an improvement from its predecessor in every way and remains arguably the most interesting RPG released this year. It even challenged retro-darling Sea of Stars.
You have to wonder if Octopath Traveler II could have taken Final Fantasy XVI's slot in the Best RPG category as the latter is way more of an action game than anything else. At the very least it could have gotten some love for the phenomenal score by composer Yasunori Nishiki!
Surprise: Best Independent Game confuses everybody
Nobody knows what an independent game is anymore. This much is clear from the inclusion of Dave the Diver in the category, which is developed by a subsidiary of the very big company Nexon. Even the developers say it isn't indie, but in the Best Independent Game category it remains. Alongside this confusing choice are some wonderful surprises like Viewfinder, Cocoon, and Dredge, managing to squeeze in despite not really breaking into the mainstream.
Snub: The Best Performance category missed so many gems
Game Awards voters were in a tight bind when it came to the Best Performance category, as each of the six available slots could have been entirely filled by the cast of Baldur's Gate 3. Neil Newborn seemed like a shoo-in for his fantastic portrayal of the rogue elf Astarion, so it is good to see him on the nominees list, but it is hard to not ask where Jennifer English, Devora Wilde, Amelia Tyler, Samantha Béart or any other cast member is!
That doesn't even cover the other games with wonderful performances that could have been included. Maybe it's time to break performance into two categories for lead and supporting performance.
Surprise: Some of the best journalists in the business get a deserved shoutout
There are a lot of great game journalists out there doing important work, but one of the standout groups in recent years has been People Make Games. The group made up of Chris Bratt, Anni Sayers, and Quintin Smith has done important video journalism on YouTube since the group's founding in 2018. Their work spans the world of competitive Excel and explaining Blaseball, to unraveling the complex narrative of Disco Elysium developer ZA/UM and Roblox's exploitation of users. It's rare to see games journalists get a shoutout at the Game Awards, so its a nice surprise to see them make it onto the nominations this year for Content Creator of the Year.
Snub: An innovative indie goes unrecognized
When it comes to games that truly innovated the medium in 2023, nothing quite comes close to The Making of Karateka. A work of preservation and documentary through the medium of a playable video game, it manages to change how an industry that is constantly failing when it comes to preservation can save and educate audiences. Of course, this was a weird title that many might have missed, and the Game Awards don't have a great place for it beyond Best Independent Game. Though for my money, this should have been nominated for Best Game Direction.
Surprise: What is Dead Island 2 doing here?
A very strange surprise is the appearance of Dead Island 2 in the best action category. The game came out in April and in our review, we described it as a "disappointing, clunky mess of a zombie game." And yet it makes the cut for Best Action Game. It's one of those cases where you get the feeling people may have googled "best action games 2023" and just wrote down whatever shows up on their ballots. That spot rightfully belonged to El Paso, Elsewhere!
Snub: 2B is not to be in the Best Adaptation category
Best Adaptation only joined the Game Awards as a category last year, making this the second time the award will be given out. While the list is always sparse for contenders, this year feels especially like people just chose anything they could remember.
While it makes sense for Castlevania: Nocturne and The Last of Us to be on the list, the Super Mario Bros. Movie is... just fine and let's be real, Gran Turismo and Twisted Metal are completely forgettable. One incredible piece of video game adaptation from this year that didn't get a nomination but really should have is NieR: Automata Version 1.1a, the anime retelling of the 2017 cult hit from Yoko Taro and PlatinumGames. The anime is an expertly done adaptation that pulls in new plot points to flesh out the story and give those who played the game something new to look out for.
The Game Awards will be streamed live on December 7 at 4:30 p.m. PT / 7:30 p.m. ET.