The Future of Gaming Looks a Lot Like This Classic Nintendo Console
After going all in on power-guzzling home consoles, the video game industry is shifting gears to a more elegant alternative: the handheld.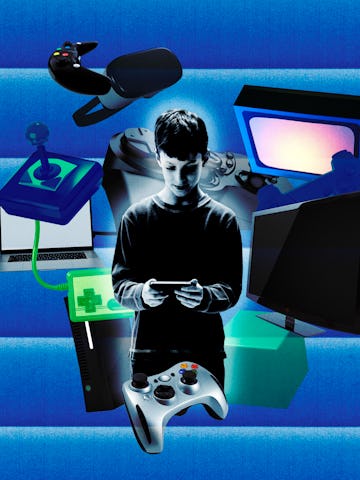 Inverse; Getty Images
The word "handheld" is something of a misnomer. We may hold these portable gaming devices in our hands, but the advantages lie elsewhere: our feet up, our bodies prone on the couch or bed, our eyes mere inches from the screen, our minds fully immersed in the world of play in front of us. For all of our advanced home theater technology, there's just something more immersive about playing a video game you can hold. The focused attention creates an intimacy that's hard to replicate when you're 6 feet away from the screen.
Handheld gaming used to be a shallow, simplified version of our home or arcade games. Nintendo's Gunpei Yokoi famously took inspiration from people playing with calculators on the subway when he created the Game & Watch. The success of those single-game devices with LCD displays ultimately led to the creation of the Game Boy in 1989 — and with it, the modern handheld gaming industry.
Consider the difference between Super Mario Land (1989) on Game Boy and Super Mario World (1990) on Super Nintendo. One has tinny, grayscale graphics in a miniature bare-bones landscape. The other is bursting with thousands of colors, loads of areas to explore, and multiple solutions to numerous stages. But even with such limitations, the joy and convenience of playing on the go made the handheld market a lucrative one, and with it came a rich era of creativity and competition. Sony joined the fray with their PlayStation Portable (PSP) in early 2005, while the Nintendo DS was a juggernaut with new experiences for the old (Brain Age) and young (Nintendogs) alike.
The 2010s saw the ubiquity of smartphones. Dedicated handhelds with "premium"-priced games were no longer the place everyone played. After the relative failure of the PS Vita, Jim Ryan, CEO of Sony Interactive Entertainment, said in 2019 that Sony was out of the handheld business. But Nintendo doubled down, and its hybrid Switch console proved there's still a robust audience for a portable console experience.
The Nintendo Switch owes its phenomenal success to flexibility. Local multiplayer comes standard out of the box with its two included Joy-Con controllers. The library is flush with titles purpose-built for game night, from Mario Kart Deluxe 8 to Overcooked 2, while new entries in venerable franchises (think The Legend of Zelda: Tears of the Kingdom or the upcoming Super Mario Bros. Wonder) ensure the Switch is still a bestseller even eight years after its release with an unflinching $300 price tag to match — and plenty of imitators.
State of Play
Nintendo isn't alone. The success of the Switch has inspired a wave of retro-inspired handhelds. Evercade EXP is a throwback device priced at $150 that outclasses the dozens of cheapo multi-game handhelds. Each cartridge is a collection of titles from classic publishers — think Atari, Namco, Bitmap Brothers, Code Masters, and Capcom. With a 4.3-inch IPS screen, it's a decidedly low-tech option, but the format suits old-school offerings like Ghouls 'N Ghosts and Mega Man X. You can even write your name in Sharpie across the cartridges if you want, just like you used to.
For a more luxurious experience, the Analogue Pocket ($219.99) provides best-in-class portable play in a sleek form factor and an ultra-crisp screen. You'll need the original cartridges, but the Pocket plays every Game Boy, GB Color, and Game Boy Advance game natively, with adaptors for more niche systems like Atari Lynx and Sega Game Gear. For lo-fi indie lovers, Panic's Playdate ($179) is a quirky pocketful of charm with a bright yellow coat of paint and… a movable crank! The bespoke input allows for intuitive play methods: Keita Takahashi's Time Travel Adventure has players cranking forward and backward in time to move a character through a sequence of 2D obstacle courses.
While the retro handheld scene is flourishing, there have never been more options to play high-spec AAA games on the go. Valve moved its PC ecosystem from the desk to your digits in 2022 with the Steam Deck, a portable computer capable of running the vast majority of your PC game library. The chunky handheld is everything the company's failed Steam Machines were not: a simple proposition at a good value (starting at $399). With the ability to bring games like Elden Ring, Street Fighter 6, and Cyberpunk 2077 anywhere, the Deck is a fantasy come true for long-suffering PC gamers of the '90s who wished they could lug their setups around as easily as a Game Boy.
A growing number of cloud-based devices — like the upcoming PlayStation Portal and the Lenovo Legion Go — will let you play the highest-spec AAA games remotely. Game streaming technology is still in its infancy, but for folks who work and play in an environment with stable high-speed internet, there's a bevy of machines willing to do your bidding.
The Logitech G Cloud is also a solid choice with a sleek aesthetic. For $349, you get a 7-inch screen with 1080p resolution and a device that works especially well with Microsoft's Xbox remote play and Game Pass. The Asus ROG Ally has more power under the hood and a bigger storage capacity — just in case you wanted to supplement your streaming with games downloaded directly to the system — but at nearly double the price, you pay for the privilege. The newest option is Lenovo's Legion Go, which apes the detachable side-controllers and kickstand of the Switch, and has the biggest screen of the category at 8.8 inches.
But while there are plenty of great handheld gaming consoles to choose from, the next generation may be even more promising.
What's Next for Handheld Gaming?
The future is just a present that hasn't arrived yet, and gamers can expect to see more dedicated handhelds in the months and years ahead. Coming later this year, the PlayStation Portal is a "remote player" for your PS5 that looks like a dedicated handheld but has more in common with Nintendo's Wii U GamePad. The Portal connects over Wi-Fi and allows you to play your installed PS5 games on an 8-inch LCD screen while others use the TV to watch Vanderpump Rules. Attached to the screen are what look like two halves of the PS5's DualSense controller, including advanced haptic and force-feedback features. Priced at $199, it offers a kind of handheld experience many opt for: playing full console games in the palm of your hand. Just don't expect to put time into Spider-Man 2 on the bus. The Portal requires an internet connection and has no internal memory or processor of its own.
Though streaming handhelds are having a moment in the sun, "cloud gaming" set-top boxes have hit something of a wall of late, what with Google's much-touted Stadia being put to rest earlier this year and Amazon's Luna service still puttering along somehow.
Analyst Serkan Toto of games industry consultancy Kantan Games sees loads of potential for cloud handhelds, but notes the infrastructure for mobile internet hasn't quite caught up yet.
"Cloud gaming handhelds make sense on paper," Toto says, "but I think users would still be confronted with a rough experience when they are on the go and need to rely on 4G or 5G connections."
One company surprisingly absent from the handheld conversation so far is Microsoft. Xbox's cloud gaming service is available on numerous third-party devices like the Steam Deck and the Logitech G Cloud, but it has yet to announce a dedicated portable of its own. Yet Microsoft clearly has the budget and infrastructure to make a dent in the handheld space. And recent moves, like the pending deal with Activision, suggest the company wants to expand its player base even more.
"Microsoft has not built a handheld yet, even though it is the company that is most vocal about bringing their games to as many platforms and reaching as many people as possible," Toto says. "I understand they push Xbox Game Pass on other manufacturers' handhelds, but it would be interesting to see an actual Xbox handheld."
Whether the market could sustain another product in an increasingly crowded field remains an open question. (The last time Microsoft entered a busy entertainment space for handheld electronics with the iPod rival Zune, things went awry.)
More likely is a new version of Valve's handheld PC, with advancements more iterative in nature. The PC customer base is used to upgrading graphics cards and processors over time, and the company will likely take a similar approach with the Steam Deck.
"A Steam Deck successor is just a matter of time," says Toto. "[Valve] can be credited with finally paving the way for PC gaming on the go at a significant scale. It was a tough undertaking, but they nailed it and will surely continue with their hardware business."
But where will the next revolutionary leap come from? What out-of-left-field surprise will gobsmack us with something we never knew we wanted? Plans invariably have changed over the last several years. But as the dust settles, we look to Kyoto.
"Nintendo is — and has always been — the superpower in handheld gaming," Toto says. "The next Switch will absolutely come with a portable element, simply because of the existence of Pokémon, an IP that is rooted in portable gaming."
But will there be a Switch 2? In late August, rumors swirled that Nintendo development kits are in the hands of trusted partners, and that the company's next console is slated for a late 2024 release. Odds are the future will look to the past for inspiration: Some old technology, used in some clever or surprising way that evokes the kind of playful magic we remember feeling as kids. And whatever direction Nintendo goes with its next console, expect to see plenty of imitators in its wake.