Here's Every New Echo, Fire TV, and Ring Device Amazon Just Announced
Everything from a smart glasses to tablets for your kids.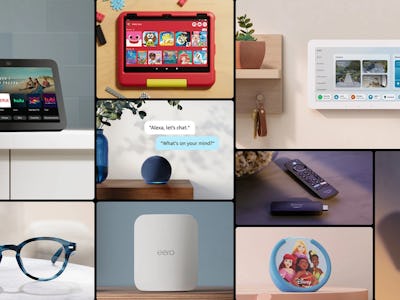 Amazon
Every year, Amazon wants us to convert more of our smart home devices to its Echo or Fire-branded devices. It was no different at the company's "Devices & Services Event" this year, where it made another sweeping round of refreshes for its devices, including the latest Fire TV Sticks, Echo Show, Echo Frame smart glasses, and Ring security cams.
It isn't all rehashes of old products. Amazon also introduced its first Fire TV soundbar designed to work with Fire TV streaming boxes/sticks and TVs. There's also a new Echo Hub smart home control panel you can install in your wall.
As always, Amazon's hardware is shockingly inexpensive and ultimately just vessels to put its Alexa assistant and AI in every corner of your home.
FIRE TV SOUNDBAR
Amazon's 24-inch Fire TV Soundbar is an affordable way to enhance your home theater experience with more immersive sound and clearer dialogue. It's easy to install since you just need to connect it to your TV and it's also compatible with Amazon's Fire TV devices. You can already order the soundbar for $119.99, with deliveries expected next week.
ECHO HUB
With all of these smart home devices, Amazon finally made a smart home wall panel hub that can control all of them. The Echo Hub has an 8-inch touchscreen and can be mounted on the wall for easy access. It can do everything from arming your security system to turning off your lights or changing the volume on your other Echo devices. Amazon says the Echo Hub will be available later this year for $179.99.
FIRE TV STICKS
Amazon has refreshed its Fire TV Sticks with two models. For the Fire TV Stick 4K, Amazon upgraded the processor with 30 percent more power compared to the last generation and added Wi-Fi 6 support. For the Fire TV Stick 4K Max, the streaming stick supports Wi-Fi 6E and Amazon's Ambient Experience that turns your TV into a smart display. The Fire TV Stick 4K is up for preorder now for $49.99, while the Max model is also available and will go for $59.99.
ECHO FRAMES
The new Echo Frames stand out as Amazon's only device that breaks out of the smart home category this year. The Echo Frames and Carrera Smart Glasses with Alexa refresh Amazon's smart glasses lineup, offering six hours of continuous media playback or talking time. These smart glasses can be paired between several devices and have an improved audio experience. The Echo Frames start at $269.99, while the Carrera Smart Glasses with Alexa start at $389.99. Neither smart glasses are available for preorder yet.
ECHO SHOW 8
Amazon's 8-inch smart display has a faster processor, a centered camera, and improved background noise reduction. The Echo Show 8 even incorporates spatial audio processing and room adaptation tech for a more tailored listening experience. It's up for preorder today, starting at $149.99.
EERO MAX 7
Amazon's latest Eero is its first Wi-Fi 7 mesh system, with claims that you can download a 4K movie in 10 seconds or a 50GB video game in less than a minute. While that could be possible, you're going to have to consult with your ISP which likely has your peak download speeds capped. The Eero Max 7 will come in one-, two- and three-packs, starting at a steep $599.99.
FIRE HD 10 KIDS/PRO & ECHO POP
For the kids, Amazon is updating its Fire HD 10 Kids and Fire HD 10 Kids Pro tablets with a lighter design, more processing power, and up to 13 hours of battery life. Both tablets are expected to ship in October, with $189.99 starting prices.
If you want to start building a smart home ecosystem for your kids, you can also buy the Echo Pop Kids smart speakers that come in Marvel's Avengers and Disney Princess designs. The Echo Pop Kids speakers start at $49.99 and will also start shipping in October.
BLINK/RING CAMS
On the outdoor security camera front, Amazon announced the Blink Outdoor 4 Floodlight Camera and the Ring Stick Up Cam Pro. Both security cameras activate when they detect motion, but the Blink cam will get the Blink Sync Module Pro to extend its range and the Blink Battery Extension Pack to improve battery life. Both security cameras are expected to ship next month, but the Blink Outdoor 4 Floodlight Camera will go for $159.99, while the Ring Stick Up Cam Pro will go for $179.99.