Those Fortnite Last of Us Crossover Rumors Are More Likely Than You Think
Could Joel and Ellie team up to earn a Victory Royale?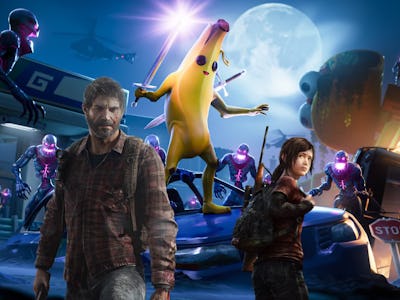 Sony / Epic Games
Fortnite is known for its collaborations with many beloved licensed properties such as Star Wars, Marvel, and even video game franchises like Resident Evil. Epic Games typically likes to work with famous IP, implementing beloved characters into the hit battle royale game. Currently, few franchises are as popular as The Last of Us due, in part, to the hit HBO series. While there's no official collaboration announcement, a recent rumor indicates that it may be on the horizon. Here's what we do know about the potential Fortnite x The Last of Us crossover.
Fortnite x Last of Us Collab Rumors and Leaks
So, where is the rumor coming from? Recently, Chief Creative Officer at Epic Games Donald Mustard attended the Sands International Film Festival, where he held a talk that featured some tidbits of information about Fortnite. While a video of the talk itself hasn't surfaced online just yet, a Twitter user named VHS_Soho attended the event and shared some details about what Mustard discussed.
During the talk, Mustard apparently mentioned that a Fortnite collab with The Last of Us could happen in the future. The aforementioned Twitter user didn't elaborate much else on what Mustard said about The Last of Us, so we'll have to wait for the full discussion to surface online to see what else was mentioned.
Still, this feels like a positive indication for anyone who wants to see The Last of Us characters come to Fortnite. It's unknown what this collab could look like, but at the very least, it might feature character skins for Joel and Ellie, the two lead characters from the first game and its live-action HBO adaptation. On some occasions, Fortnite collabs include more than just character skins, sometimes offering map expansions, new themed weapons, quests, and even NPCs tied to a particular franchise.
So, if Epic Games is planning to bring The Last of Us to Fortnite, when could this crossover take place? Epic Games likes to tie its collaborations around major releases. For instance, Leon Kennedy was featured in Fortnite in March 2023 to coincide with the launch of Resident Evil 4.
With that in mind, it's possible The Last of Us characters could come to Fortnite around the time of a new release — like the standalone multiplayer factions game — or even Season 2 of the HBO show. We know Season 2 is currently in the works and could release sometime in 2024, so it's possible that's when the Fortnite collab will happen as well. If this does happen, Fortnite might get more than just Joel and Ellie as character skins — it might also receive Abby, who is one of the main characters from The Last of Us Part II — on which Season 2 will likely be based.
Given Epic Games' previous collaborations, especially ones with Sony properties, it's likely The Last of Us will come to Fortnite at some point. The battle royale game has received characters such as Aloy from the Horizon series and Kratos from God of War, both of which are major first-party PlayStation franchises just like The Last of Us. Given how Sony owns around 5 percent of Epic Games, it's possible the PlayStation collabs won't be stopping any time soon.