Star Wars Is About to Introduce Its Scariest Villain Since Palpatine
Is Moff Gideon in trouble?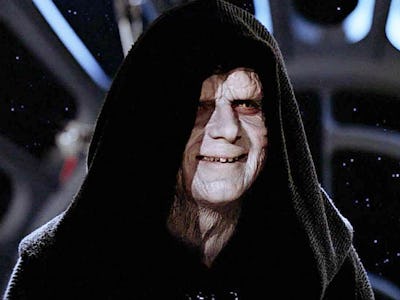 It's been two years (and 10 chapters) since The Mandalorian first mentioned Thrawn in Chapter 13, "The Jedi." Now, it looks like the fearsome Imperial leader may finally be getting ready to join the Mando-verse once and for all.
Episode 7 of The Mandalorian Season 3 features multiple references to Grand Admiral Thrawn (Lars Mikkelsen), the fan-favorite Star Wars Rebels villain who is expected to appear in Ahsoka later this year. However, while the repeated mentions of Thrawn's name were likely welcomed with open arms by Star Wars fans everywhere, one Mandalorian character didn't seem all that interested in the notion of Thrawn making his long-awaited return. The character in question? None other than Moff Gideon (Giancarlo Esposito).
The recurring Mandalorian villain lets his disinterest in Thrawn's rumored return known the first chance he gets in The Mandalorian's latest episode, titled "The Spies." The ruthless Imperial warlord tells his fellow Shadow Council members that he remains unconvinced Thrawn will actually return anytime in the near future and suggests that it'd be best for them to focus on more pressing issues rather than continuing to wait for their Imperial savior's prophecized re-emergence.
In "The Spies," Gideon gets his way. But what will happen once Thrawn actually does catch back up with his former Imperial servants, an event that is all-but confirmed in the first trailer for Ahsoka?
Based on what's revealed in "The Spies," it seems safe to say that most of the galaxy's Imperial warlords would be glad to fall in line behind Grand Admiral Thrawn should he ever return. But Moff Gideon wouldn't be one of them. As a matter of fact, Gideon doesn't seem to share the same reverence for Thrawn as his fellow Shadow Council members and even goes so far as to smirk at many of Captain Pellaeon's (Xander Berkeley) remarks about the Grand Admiral's potential return.
Unfortunately for Gideon, the trailer for Ahsoka makes it seem like Pellaeon's belief in Thrawn isn't entirely misguided. That puts Moff Gideon in an uncertain position. After all, while he remains steadfastly committed to the Empire's mission, The Mandalorian has seen Gideon become increasingly obsessed with his ongoing campaign to defeat Din Djarin (Pedro Pascal), Bo-Katan (Katee Sackhoff), and every remaining Mandalorian in the galaxy.
It doesn't seem, in other words, like Gideon would be able or willing to immediately start following Thrawn's orders at the drop of a hat. While he's certainly a formidable warrior and strategist, too, it seems safe to say that Gideon wouldn't stand a chance in a battle of wills against Thrawn, either. Given how long he's been exiled, it's also unlikely that Thrawn would be willing to put up with any disobedience from Gideon.
Does that mean it'll be Thrawn who ends up taking out Moff Gideon? We will, of course, have to wait to see whether or not Gideon meets his fate in this week's Mandalorian Season 3 finale before we can speculate too much either way. It is worth noting, however, that "The Spies" does set up the possibility of Gideon dying one day not at the hands of Din, Bo-Katan, or any of The Mandalorian's heroes, but at the behest of Grand Admiral Thrawn himself.
The Inverse Analysis — There's no telling right now what fate may ultimately lie in store for Moff Gideon. However, if he does make it out of The Mandalorian's Season 3 finale alive, the possibility of Grand Admiral Thrawn being the one to defeat him once and for all shouldn't be discounted. It would be poetically ironic, in fact, if Gideon doesn't ultimately meet his end at the hands of any of his sworn enemies, but a fellow Imperial who just so happens to be even smarter and more ruthless than him.
Having Thrawn murder Moff Gideon would also, notably, help establish just how cutthroat and formidable the former character is for any Mandalorian fans out there who haven't watched Star Wars Rebels yet.
The Season 3 finale of The Mandalorian premieres Wednesday, April 19 on Disney+.