Major Elden Ring DLC hints discovered by data miners after 1.07 update
The numbers Mason, what do they mean?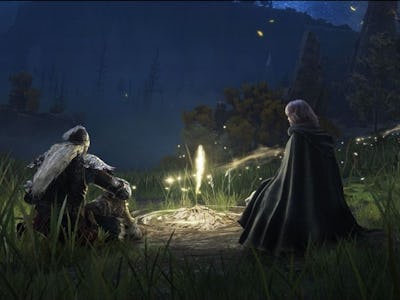 Bandai Namco
Even after eight months, Elden Ring still has so much to offer players. But for those who have seen everything the Lands Between has to offer, then new information on potential DLC will be welcome. Thanks to datamining on the recent patch 1.07, it looks like the Tarnished could be adventuring out into new areas with dungeons, bosses, and stories to discover.
Patch 1.07 went live on October 13 and mostly focuses on numerous PvP fixes to the game. PvP has been a sore spot for players, mostly going uncared for my FromSoftware to the point that PvP players have been leaving the game or modding it to get the features they want. (Check out our full rundown of changes in patch 1.07 here.)
But FromSoftware could be using patch 1.07 to set the groundwork for future DLC to come. To put it in simple terms, the new update includes code references to two new maps for the game. The more technical explanation is that every map in Elden Ring has a code, for example, code m10 is Stormveil and m11 is Leyndell.
The new map codes referenced in the latest update are m20 and m45. As pointed out by Elden Ring data miner Sekiro Dubi on Twitter, m20 uses the same numbering as Legacy Dungeons. These areas, which include the likes of Stormveil Castle, put the player in a traditional Souls-like zone with enemies and progression toward a boss, as opposed to the sprawling open-world landscapes throughout the Lands between.
Code m45 however, is something entirely new.
The inclusion of m45 implies that a new area will be introduced to Elden Ring through DLC in some form or another. Ever since the launch of Elden Ring, fans have been hoping for some hint at DLC plans. In the past, FromSoftware games typically receive one major piece of post-launch DLC that introduces new areas and story content. Darks Souls 1, 2, 3, and Bloodborne all received major story DLC. However, Sekiro: Shadows Die Twice never received any major post-launch content.
As for what the new m45 map could entail, there are two schools of thought in the Elden Ring community. The first is that m45 is a dedicated PVP arena. This certainly is in line with the many PvP tweaks and fixes that the game received in Patch 1.07. Previous data mining from YouTuber Lance McDonald revealed a currently inaccessible zone in Elden Ring that consists of a massive coliseum. This arena would give Elden Ring players a dedicated zone for PvP.
The other theory is that m45 will be a major new area that will be accessible through new story DLC to be released at a later date. There are several plot points in Elden Ring that are not fully explored and lend themselves well to DLC. One of the biggest questions left after completing the main story is the identity of Melina. While she acts as your guide through much of the game, she has her own motivations and mostly stays in the shadows when it comes to her background, so this is something that could be explored.
Another theory points to Elden Ring's Divine Towers, which when lines are drawn across them converge on a clouded area of the map in the middle of a body of water. It is possible that this clouded region could be revealed to be an entirely new area for the Tarnished to explore.
With Game of the Year season right around the corner, Elden Ring is sure to rack up numerous awards and bring itself back into the spotlight. It could be the perfect time for FromSoftware to announce that players will be able to return to the Lands Between for a new adventure. Hopefully, we won't have to wait long to know if the Tarnished still has another adventure in store.