Everything we know about Call of Duty: Vanguard Season 3 Reloaded
A new perk, an underground transit system, and an SMG are dropping in.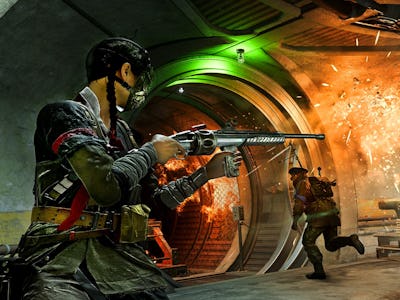 Activision
Later this week, Call of Duty: Warzone will receive a substantial update in the form of Season 3 Reloaded, with gameplay changes, improvements, and exciting new features that will likely change how the game is played. In recent months, Activision has prioritized making Warzone the best game it can possibly be, while focusing on squashing bugs, and improving the overall quality of the battle royale shooter. But when can you expect to play Season 3 Reloaded and what kinds of updates will it contain? Here's what you need to know about the forthcoming mid-season Warzone update.
When is the Call of Duty: Vanguard Season 3 Reloaded release time?
The Warzone Season 3 Reloaded update launches on May 25 at Noon Eastern across PS4, Xbox One, and PC. Season 3 Reloaded is being worked on by the folks at Raven Software, along with Sledgehammer Games, Beenox, and Toys for Bob — all of which fall under the Activision umbrella.
What are the Call of Duty: Vanguard Season 3 Reloaded patch notes?
The full patch notes can be read on the official Call of Duty site, but we'll break down the most important changes below.
Serpentine perk
Kicking things off is the new Serpentine perk, which falls into slot 1, competing against the likes of E.O.D., Quick Fix, and Cold-Blooded.
Here's a description of the new Serpentine perk:
Sprinting reduces incoming damage from bullets, explosives, and fire by 20 percent.
This perk could drastically change the way long-range engagements play out, especially for those using snipers. Since it competes with other slot 1 perks, which are extremely valuable, it's unclear just how many people will end up using Serpentine, but it's likely it will be a popular choice, at least at first.
Underground minecart transit system
Much like the transit system on Verdansk, Caldera will also receive a new fast travel mechanic—this time, with the use of underground mine carts. The main thing to keep in mind is that you cannot travel to any main hub from whichever location.
Instead, it works like a web, with certain points being accessible from any given spot. This should increase the pacing of a match, allowing players to quickly get from point A to B without the need for a vehicle or running on foot.
Four new items
Gulag Entry Token: As you play, you might stumble upon a single-use Gulag Entry Token, which allows you to be sent to the Gulag if you're eliminated, even if you've already visited it once in the match. This gives you the chance to continuously redeploy so long as you have a token on hand—assuming you win your Gulag. If you have a Gulag Entry Token after the Gulag is closed, you'll receive a cash bonus.
Redeploy Extraction Token: This works like the Gulag Entry Token, but instead allows you to redeploy without having to battle it out in a 1v1 match. The Redeploy Extraction Tokens will be much rarer, considering they're far more useful.
Speed Boost: This uncommon item will grant you a temporary speed boost, which can be extremely useful during engagements or for simply escaping the gas.
Radar Jammer: A new field upgrade known as Radar Jammer will be added with Season 3 Reloaded. This item can be placed on the ground and will obstruct the minimap of nearby enemy players, and disallows the use of killstreaks. Keep in mind, those using Engineer can actually hack an enemy Radar Jammer, which might encourage more players to equip the underused perk.
New H4 Blixen SMG
Warzone Season 3 Reloaded will also come with a brand new SMG known as the H4 Blixen. Activision describes this weapon as a "hard-hitting SMG" that "offers mobility and accuracy in medium-range engagements."
Activision also mentioned that the Blixen aims to compete against the Owen Gun, which has dominated the SMG meta for months now. Unlocking the Blixen seems like it will be a pain, requiring you to earn three eliminations while sliding in a match 15 times.