The WGA Strike is Ending — But Your Favorite Shows Are Still Coming Later Than You Think
The fight isn't over yet.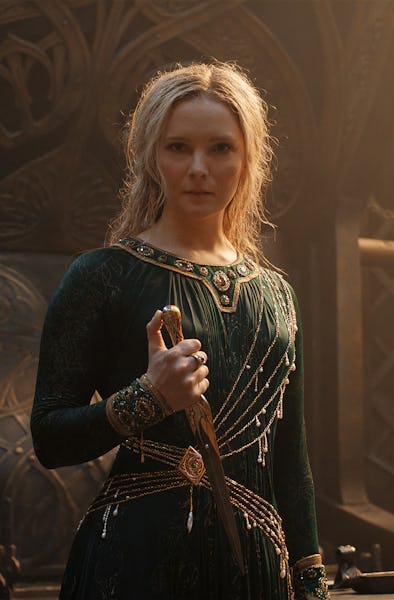 Amazon Studios
The Hollywood strikes have officially turned a corner.
After over 100 days of protests, the Writers Guild of America struck a tentative deal with the studios and streamers behind the AMPTP. An agreement was reached after five consecutive days of negotiating, per Variety, and will see the WGA gaining protections against generative AI, inadequate residuals, and the opaque new normal that the streaming bubble effectively created. The writers' strike will remain in effect while WGA leadership votes to accept the deal, but this is still a massive sign of progress for the guild.
The terms struck by the WGA and the AMPTP will change the film industry for the better. Improved working conditions mean drastic improvements across the board. Audiences can look forward to an uptick in quality from embattled studios like Disney and Warner Bros., and after a summer of delays, fans are certainly ready to return to their favorite sci-fi and fantasy worlds.
That said, delays won't lift overnight. As fantastic as this development has been for the WGA, there's still a long way to go before previously-delayed films and shows eventually return. A lot of things need to fall into place before Hollywood is officially back, and it doesn't end when the writers guild returns to work.
The Hollywood shutdown is still very much in effect — not only because the WGA are still technically striking, but because the Screen Actors Guild has yet to reach their own deal with the AMPTP. SAG-AFTRA went on strike shortly after Hollywood writers, and negotiations with the studios still seem tenuous, at best. While writers can resume their work, actors won't be available to film anything — nor are they free to promote the productions coming out in the fall and winter.
Even if the AMPTP does reach a speedy agreement with the actors guild, it's going to be a while before most productions get back up and running. Shows like Lord of the Rings prequel The Rings of Power, HBO's House of the Dragon and Dune: Sisterhood, and Disney's Andor were each caught at various points in production when the dual strikes hit Hollywood. Most tried to continue filming without showrunners or writers present, but they didn't get far before SAG-AFTRA eventually joined the WGA. When production does eventually resume, most of these shows may have to undergo reshoots. That can only improve the finished product, but don't expect an announcement for The Mandalorian Season 4 any time soon.
Things are definitely looking up for the artists that make these projects possible, but there's still a ways to go before things can even remotely get "back to normal." Fans have been pretty understanding about delays to their favorite franchises; they'll just have to maintain that patience for a little while longer.