Rings of Power Season 2 Is in Trouble. Let a Sitcom Creator Explain How.
How important could words be to a Tolkien show?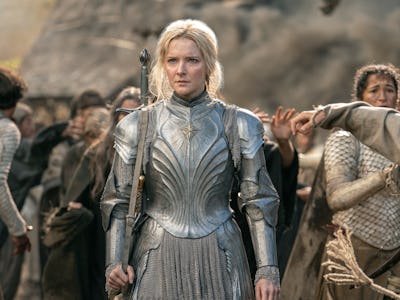 Amazon Studios
There is trouble brewing in Middle-earth, and this time it has nothing to do with Sauron.
In a Variety story published Thursday, Amazon's Lord of the Rings series The Rings of Power is still filming its second season amid the ongoing strike by the Writer's Guild of America (WGA).
This should worry Tolkien fans. Not having writers on set, or even the liberty to make changes to scripts on set, can be a real hindrance to the quality of the work. As Variety confirms, the ongoing production of Rings of Power is adhering to WGA strike rules, which forbids its showrunners "and any other writer-producers" from engaging "in any writing-based duties" while the strike continues. This includes "making creative decisions on set."
Since the WGA strike began, shows like Heroes and the James Bond film Quantum of Solace have been cited as evidence of how striking writers can negatively influence final products.
Further wisdom can be gleaned from How I Met Your Mother co-creator Carter Bays, who used Instagram to share insight into how valuable writers really are on set. Citing one of the show's best gags from Season 5, Bays revealed how it came together "five minutes before it was shot" by one of its writers. Bays elaborated:
"You might read about your favorite show staying in production through the strike because 'the scripts are finished.' To which I reply, 'Oh honey…' The scripts are never finished. If your favorite show is shooting without a writer on set, it's going to be… well, just fine. At best."
Bays went on to argue that this is the reason writers are striking. "In order to make great TV, the writing can't just stop when you hit print on the script," Bays wrote. "Someone needs to be there — some paid professional ... from start to finish, making sure it works, or thinking up something better along the way. And that someone is a writer."
How I Met Your Mother and The Rings of Power are very different shows, but it doesn't matter that one is a fantasy epic and the other is a sitcom about an awful man looking for a girlfriend. All TV shows are at the mercy of the unpredictable dynamics of production. And for a gigantic show like The Rings of Power that's sourced by J.R.R. Tolkien's deep well of texts that the show's writers have studied inside and out, well, the second season of Amazon's big fantasy bet may have more trouble at hand than just its dwindling viewership.