House of the Dragon Season 2 Needs to Learn From Writers Strike History
The Game of Thrones spinoff is taking a huge — and possibly catastrophic — risk with its sophomore season.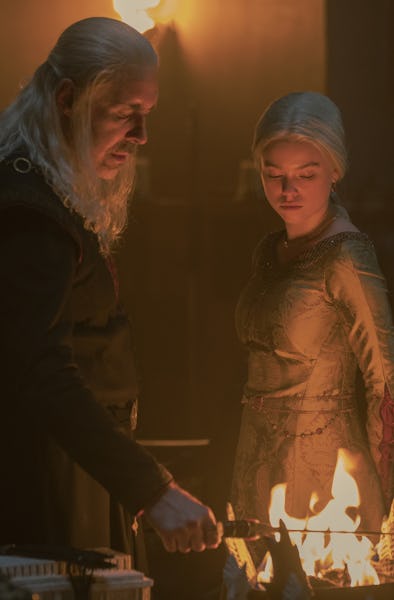 House of the Dragon introduced viewers to a foreign world, a Westeros vastly different from even the one we saw in Game of Thrones. But since production on the second season began in April, the real world is affecting the story in a major way. It looks like the show intends to barrel through any obstacles no matter what — but that may be a mistake.
House of the Dragon is known for its expensive-looking sets, both physical and in CGI, so production is often a long and arduous process. But an even bigger wrench was thrown into the works on Tuesday when the WGA writers strike kicked off, halting any union writing work across movies and TV. Despite House of the Dragon filming internationally, any WGA members would not be able to do any writing work.
Variety reports the series is still continuing production as normal, regardless of the strike, because the scripts have been finished. This seems like a reassurance that the series will return to HBO on schedule. But the final product may not be what Game of Thrones fans have come to expect.
Script rewrites are an integral part of production (just ask Jenna Ortega) and while they may not be necessary, they are a great last resort for unforeseen circumstances like weather difficulties, which plagued Season 1 and forced a number of scenes to be so dark they were barely visible.
Going ahead with production despite not being able to do rewrites has not gone well in the past. During the previous writers strike in 2007, many TV shows and movies ground to a halt, but notably, the James Bond movie Quantum of Solace soldiered on. The result left Daniel Craig shaken — and stirred.
"Me and the director [Marc Forster] were the ones allowed to do it. The rules were that you couldn't employ anyone as a writer, but the actor and director could work on scenes together," he told Time Out London (via IndieWire.) "We were stuffed. We got away with it, but only just. It was never meant to be as much of a sequel as it was, but it ended up being a sequel, starting where the last one finished."
The result was a movie that is deemed a mess at best. The film's nonsensical plot is now seen as a cautionary tale of what happens when a writer is not on set to help guide and shape the story through production. This is what House of the Dragon is risking. As talented as Matt Smith, Emma D'Arcy, and Olivia Cooke are, they're probably not the best writers for a series with such a complex plot. (As great as it is watching them discuss negronis.)
House of the Dragon is a major tentpole series for HBO, and it looks like the dilemma is to either work through the strike and risk an uneven product, or wait until the strike ends and risk angering fans with a delay. But if there's any fanbase that's patient, it's Game of Thrones': they've waited a dozen years for The Winds of Winter, they can wait for the end of the strike.
House of the Dragon Season 1 is now streaming on HBO Max.