Disney and Marvel's Biggest Movies Flopped Hard This Summer — But There's a Silver Lining
This has been one of the strangest — and best — movie summers in a long, long time.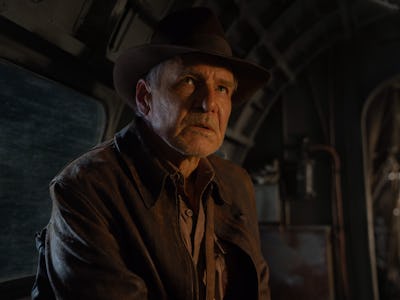 Walt Disney Studios Motion Pictures
The summer movie season is slowly but surely coming to an end. It seems safe to say that the past few months have taken Hollywood on a fairly unpredictable ride, too. On top of the ongoing WGA and SAG-AFTRA strikes, which have shut down the industry's productions on a mass scale, many of the films and franchises that have long been considered "too big to fail" ended up doing exactly that.
From Indiana Jones and the Dial of Destiny to The Flash and Haunted Mansion, several of this summer's would-be blockbusters turned out to be box office bombs. Massive creative swings like Barbie, Oppenheimer, and even Spider-Man: Across the Spider-Verse were, conversely, all rewarded at the box office for their artistic boldness.
Hollywood's usual winners — namely, Marvel, DC, and Lucasfilm — have all suffered major losses this year. The important thing isn't whether or not those three studios will be able to recover from their recent missteps, either. Instead, the question everyone should be asking is: Why did they fail in the first place?
For years, superhero franchises like the DCEU and the Marvel Cinematic Universe maintained a stranglehold over the entertainment industry. While plenty of memorable superhero movies have been made over the course of the past 15 years, too, the genre's dominance eroded much of the diversity that Hollywood's studio lineups used to be known for. Big-screen romantic comedies, for instance, withered on the vine, while any interest in making R-rated studio comedies seemingly evaporated.
Whether it was intentional or not, this year marked a return to form for many of the industry's previously presumed-dead genres. No Hard Feelings, Joy Ride, Strays, and The Blackening have all rejuvenated the R-rated studio comedy and reminded audiences why films like them used to be a staple of the summer movie season. Financial successes like Insidious: The Red Door, Talk to Me, and Evil Dead Rise have similarly reaffirmed the potential that fun, dark horror movies have to become summer box office hits. Animated films like Spider-Man: Across the Spider-Verse and TMNT: Mutant Mayhem, meanwhile, have been rewarded for their technological and artistic innovations.
And then there's the Oppenheimer and Barbie of it all. Those two films' success can, of course, be partly attributed to the online memes surrounding their simultaneous release, but it also seems safe to say that Barbie and Oppenheimer wouldn't have been nearly as successful as they've been if they weren't so well-made and artistically distinct. In both cases, their directors' authorial marks are all over them, and that's mostly why they've been received so well.
All of this is to say that, while not every attempt at bringing back the R-rated comedy or adult drama has totally landed this summer, the combined success of films like No Hard Feelings, Oppenheimer, Barbie, Talk to Me, Spider-Man: Across the Spider-Verse, Pixar's Elemental, and Evil Dead Rise has resulted in this being one of the most excitingly diverse summer movie seasons in recent memory. (Even a smaller adult drama like Asteroid City earned almost $50 million during its theatrical run.)
What do this summer's successes and failures ultimately prove? It's not that American moviegoers are necessarily sick of all franchises and superhero movies. After all, Guardians of the Galaxy Vol. 3 is one of the year's highest-grossing films. As of this writing, the year's top two movies are also Barbie and The Super Mario Bros. Movie, both of which stand as proud pieces of IP entertainment. What's additionally worth noting, though, is that many of this summer's biggest films received largely positive reviews, while movies like Dial of Destiny and The Flash didn't.
That suggests that American moviegoers have grown less forgiving of Hollywood's biggest franchises than they used to be. The expected standard of quality has risen, which is why films like Spider-Man: Across the Spider-Verse have been received so warmly, while MCU misfires like Ant-Man and the Wasp: Quantumania and this summer's Secret Invasion were widely considered major disappointments. This is, notably, the first summer in years where Marvel Studios hasn't had much of a presence in the wider pop cultural conversation, and it seems like the quality of its recent output is the reason for that.
The failure of films like Indiana Jones and the Dial of Destiny and Transformers: Rise of the Beasts additionally suggests that Hollywood needs to start reconsidering who it's making movies for these days. Is its target demographic still the middle-aged comic book and 1980s obsessives that used to be at the forefront of the pop cultural conversation? Or is it time for the industry to start making more movies targeted at the kind of younger viewers who don't have nearly as much of an all-consuming affection for the past?
If you look at this year's critical and box office results up to this point, the answer to that question seems clear. Either way, Hollywood proved this summer that it was capable of releasing more than just big-budget superhero movies and long-in-the-tooth franchise installments. Moviegoers, in turn, proved that they're still interested in venturing outside of the comic book space — so long as the films they go see don't take their time for granted.