Machine Learning and Geometry: How Disney Made Indiana Jones Look Young Again
"We knew that we were gonna be using every single technique we had produced to date."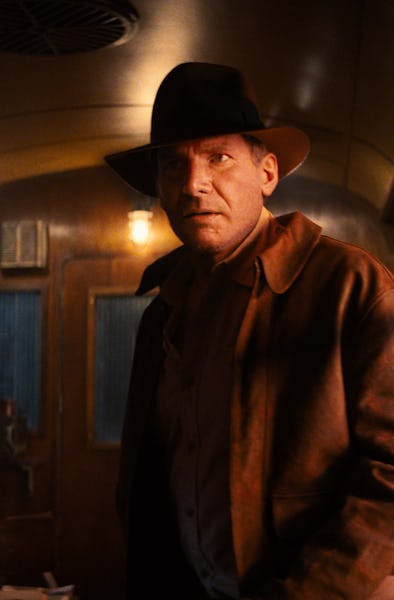 Lucasfilm
Making Indiana Jones look young again was (relatively) easy. The hard part? Doing the same for his latest enemy, a Nazi scientist played by Mads Mikkelsen.
"There was a desire that we didn't necessarily want him to look like a younger Mads Mikkelsen," VFX supervisor Andrew Whitehurst tells Inverse.
You see, while Mikkelsen has established himself as Hollywood's go-to villain (he's played the bad guy in every cinematic universe from Marvel and DC to Harry Potter and James Bond), he didn't always look quite so stereotypically evil. The actor started off his career with model good looks, but Indiana Jones and the Dial of Destiny needed him to still look diabolical in the movie's opening scene, which features a youthful Harrison Ford fighting Nazis in the 1940s.
"So we did a lot of concept arts and testing, to see what young Jurgen Voller [Mads Mikklesen's character] looks like, rather than trying to make him look like Mads did," says Whitehurst, who spent three years working on the movie. "It was a slightly different approach as we weren't trying to match something from the past exactly. We were trying to figure out and imagine what this character would look like as a younger man and then achieve that."
The Origins of ILM FaceSwap
That's just one example of the ways that Disney, Lucasfilm, and Industrial Light and Magic pushed the boundaries of special effects technology in Indiana Jones and the Dial of Destiny. In the process, they invented a new type of technology, which the company calls ILM FaceSwap. To find out how it works (and a few more secrets from the making of Indy 5), Inverse spoke to Whitehurst along with ILM's own VFX supervisor Robert Weaver and senior publicist Ian Kintzle. Here's what we learned.
For one thing, ILM FaceSwap isn't just a button you press in Photoshop. It's an entire set of artistic and technological tools that come together in a movie like Indiana Jones and the Dial of Destiny. "It's a very broad terminology," Weaver says.
"There was some FaceSwap in Terminator 2."
A lot of those tools have also been around for decades.
"We've actually been doing this for over 30 years," Kintzle tells me. "There was some FaceSwap in Terminator 2, and there was a face swap sequence in Jurassic Park. (Specifically, the technology was used in Jurassic Park to switch out the face of a stunt double in a scene where Lex Murphy (Ariana Richards) falls through the ceiling. "It's been used unofficially internally for a bit," Kintzle adds, "but this is the first branded version of what ILM does."
The difference in Indiana Jones 5, Whitehurst says, is that the movie's 25-minute flashback meant the studio had to use pretty much all the tools at its disposal, from CGI to "geometry derived from photography" to machine learning, often combining them all for each shot. "We knew that we were gonna be using every single technique we had produced to date and whatever else we could develop for this production and to use in the future."
Making Indiana Jones Look Young Again
It takes a small army to pull off a FaceSwap (Weaver says the work was completed by "a couple hundred artists"), but thankfully they had a bit of help.
"We were very fortunate that we had Harrison Ford, who is just amazing," Whitehurst says. "He's in incredible physical shape. So the physicality of it was not a problem."
"It was the first time I'd worked with machine learning."
There was still plenty of work to do, however. To get all the necessary data, the main camera used to shoot the movie was outfitted with "extra cameras" to get additional data about everything from the lighting to the finer details of Ford's face.
"We scanned every single environment so that we knew where everything physically was in space," Whitehurst says.
Artificial intelligence also played a key role in the process. "It was the first time I'd worked with machine learning," Weaver says. Specifically, ILM used computers to analyze "all the past Indy films" and then create a baseline version of the FaceSwap that VFX artists could use to weigh the pros and cons of different techniques. It also gave the team an easy way to pull reference images from old Indiana Jones movies and other material to match each shot in Dial of Destiny.
Once the movie was filmed and all the reference material analyzed, the hard part begins: going shot-by-shot and using FaceSwap to make Harrison Ford look younger.
"Every shot has its own challenge, and it's the journey of looking at a shot and going, okay, this isn't quite right," Whitehurst says. "Maybe the smirk's just not right. Maybe he's not quite sassy enough here."
One of the most difficult parts of the face to FaceSwap? The eyes. "The eyes are always very difficult because that's always a focal point and the windows to the soul, if you will," Weaver says. In some shots, they keep the original eyes completely as is. In others, it's total CGI. "The eyes always relate so much emotion, even at a standstill," he adds. Throw in the occasional blink and it's almost impossible.
But ultimately, whatever VFX tools or tricks might be used today or in the future, Weaver emphasizes that nothing is possible without the humans behind ILM FaceSwap.
"I'll just stress that, whatever technological advances that we make, which are continually evolving, it's all for naught without talented artists behind the scenes to use these tools creatively."