Why the Director of Indiana Jones 5 De-Aged Harrison Ford
James Mangold tells Inverse all about The Dial of Destiny's opening scene.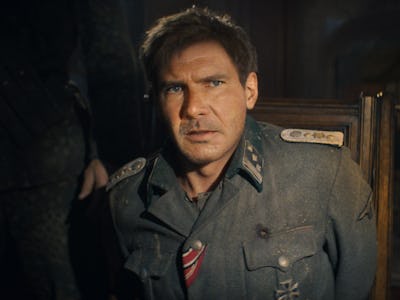 Lucasfilm
James Mangold isn't worried about the rise of digitally de-aged movie stars. And he doesn't think you should be either.
"I don't think it's the future of movies," the director tells Inverse, "but I think it's another tool at our disposal."
Digital de-aging has been applied heavily in recent years in everything from the Marvel Cinematic Universe (Captain Marvel featured a de-aged Samuel L. Jackson in a starring role) to Martin Scorsese's The Irishman and its youthful Robert De Niro. Even Mark Hamill got the de-aging treatment so Luke Skywalker could show up in The Mandalorian and provide some guidance for Baby Yoda. And now, in Mangold's upcoming Indiana Jones and the Dial of Destiny, Harrison Ford appears as a younger version of himself for the film's first 25 minutes, which take place on a Nazi loot train during the final days of World War II.
It's enough to make you wonder if Hollywood will ever need a new generation of actors again when Harrison Ford's visage has been rendered immortal. But Mangold, whose credits include Logan, Ford v Ferrari, and the upcoming Indiana Jones and the Dial of Destiny, doesn't see it that way. Instead, he compares the new technology to another Hollywood innovation.
"Prosthetic makeup was a kind of revolution when it arrived in full force with Dick Smith and Little Big Man and Planet of the Apes and all these incredible movies," Mangold says. "I guess everyone could have said, is this the future? These are all tools that can be used or misused."
Technically, it was the future. At least for a while. But, thanks in large part to the innovations pushed by Lucasfilm (the Disney-owned studio behind Indiana Jones), computer-generated images have largely replaced practical effects and prosthetics — with plenty of exceptions, of course.
"The reality is that, one way or another, for better or for worse, almost all visual effects are now happening in a digital realm," Mangold says. "So you can call them all CGI because they're no longer building models and making matte paintings, or if they're doing those things, they're building the models in a digital space or making the paintings in a digital space."
As for Indiana Jones and the Dial of Destiny, the choice to de-age Harrison Ford has more to do with good old-fashioned storytelling than technological innovation.
"To me, the opportunity was really not about the technology," Mangold says. "The goal of the opening sequence of the movie was to give the audience a blast of the classic golden-age Indy I missed, and they miss: to have an adventure in the middle of World War II, good guys versus bad Nazis versus allies."
It was also an opportunity "for me to do my best version of Steven Spielberg, in a sense, my hero, and try to make a sequence as a kind of homage to those films," he adds.
But what makes the use of de-aging CGI more impactful is what comes next.
"Then as that sequence ends, to land in the sobering reality of where we are in 1969 with our hero, who is now in his '70s," Mangold says. "Part of that is to jolt the audience and to kind of go, 'Oh, whoa. Okay.'"
That sharp disparity between Dial of Destiny's rip-roaring opening act and the reality we find Indiana Jones in two decades later goes beyond CGI. This older Indy seems out of place in 1969 as he prepares to retire from his job as a professor of archeology, with any memories of old adventures firmly in the past. This is also reflected in a part of the movie that's always been core to the franchise: its music.
Mangold worked with the original Raiders of the Lost Ark composer, John Williams, to strike a balance between fan service and the darker places he wanted to take Harrison Ford's character in Dial of Destiny.
"One of the interesting early discussions I had with John Williams was how I imagined the movie would open and John would let the horses just run out of the barn," Mangold says. "It would be full-on Indy. Classical Erich Korngold-style, Golden Age soundtrack. And then we land in what is almost the '70s New York. And in that conversation with John, I said, 'I don't know when we hear the Indy theme again. That's something you and I should figure out.'"
Ultimately, everything about the first act of Dial of Destiny — from the CGI to the music to the climactic fight on the top of a Nazi train — is designed to do one thing: set the audience up for the biggest possible gut punch when they catch up with Indiana Jones two decades later.
"When we land with him in New York, in a sense, he's not Indy anymore," Mangold says. "He's just a guy at kind of the end of his teaching career in a bit of an existential crisis."
Indiana Jones and the Dial of Destiny releases in theaters on June 30.