Swamp Thing Becomes First Movie in James Gunn's DC Universe to Find Director
The last movie announced may be the first to get a director: Logan director James Mangold is in talks.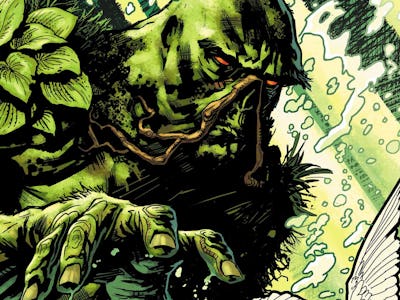 DC Comics
James Mangold killed Wolverine, but he's about to bring another comic book hero to life.
In a story by The Hollywood Reporter, filmmaker James Mangold is "in talks" to helm Swamp Thing, recently announced by DC Studios' James Gunn as part of DC's soft reboot of its cinematic franchise. The movie doesn't yet have a release date, but it was announced as the last of, and among the most important pieces of, Gunn's grand puzzle.
THR notes that conversations between Mangold and DC are still happening, though Mangold is said to be a "massive fan" of the comics. For his part, Mangold shared on his verified Twitter account, sans comment, a Bernie Wrightson illustration of Swamp Thing dated 1972. Wrightson co-created Swamp Thing with Len Wein.
Given Mangold's proven credentials as both a filmmaker of grounded human dramas (Walk the Line, 3:10 to Yuma), blockbusters (The Wolverine, Knight and Day), and sometimes both (Ford v Ferrari), his take on Swamp Thing has the potential to be effortlessly exciting. For all the genres Mangold has tackled, supernatural horror is territory he's yet to explore.
Swamp Thing is one of the rare comic book characters to stay under the mainstream radar while still boasting not only beloved comics penned by titanic talents like Alan Moore, but multiple film and TV adaptations. Horror master Wes Craven directed a Swamp Thing film in 1982, which spawned a sequel in 1989. A Swamp Thing series aired on the USA Network in 1990 and ran for 72 episodes.
After several appearances in DC's animated movies and TV shows, a live-action Swamp Thing was produced for the short-lived DC Universe service; Underworld director Len Wiseman and The Conjuring and Malignant's James Wan were among its producers. Due to financial issues, the series was canceled before it released its second episode.
In a video presentation by DC, Gunn described the new Swamp Thing as a "very dark horror story" that explores his origins. "Although it's tonally outside of the DCU, it will still feed into the rest of the stories," Gunn said, alluding to the possibility that Swamp Thing will interact with characters like Batman and Superman on the big screen.
While many men have donned the mantle of Swamp Thing in DC's comics, the most famous is Alec Holland, a Louisiana scientist whose body merges with his swamp surroundings after an accident involving a breakthrough formula. Technically, Alec is dead, but his consciousness and memories are imbued into a new, plant-based life form known as Swamp Thing, an elemental being who safeguards Earth's environment.
In addition to the character's inherent eco-messaging, Swamp Thing's comics are celebrated for their exploration of spiritual narrative themes, like life, death, reincarnation, and a mythology that aggrandizes Earth's ecosystem into something more fantastical. The character's had many run-ins with the wider DC Universe, including confrontations with Batman and membership in the occult-based superhero team, Justice League Dark.
James Mangold is a proven hand at grounding comic book characters whose inhumanity only makes them more relatable. Mangold's handling of Wolverine allowed audiences to sympathize with a maniac, and now Mangold will try to endear us to a monster.