James Gunn Reveals DCU Plans, From New Superman to Swamp Thing
Welcome to DC's era of "Gods and Monsters."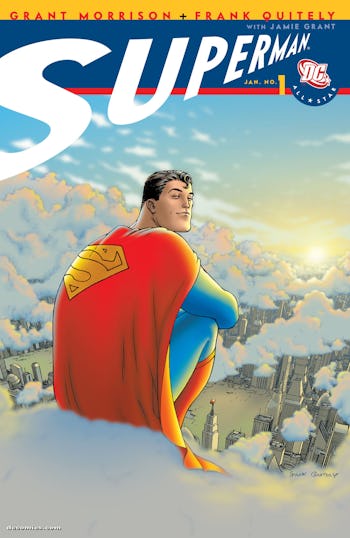 DC Comics
The DC Universe has been reborn.
At a press event, and via a video shared on social media, DC Studios co-chairs James Gunn and Peter Safran unveiled their eight-to-10 year plan for a new, more unified DC Universe across films, TV, animation, and video games. Not unlike rival Marvel's "phases," Gunn and Safran used the term "Chapter One" to describe DC's new slate. It has another name, too: "Gods and Monsters."
In short, the new DC slate is using major, A-list characters to help introduce relatively more obscure characters unknown to the mainstream. "One of our strategies is to take our diamond characters, which is Batman, Superman, Wonder Woman, and we use them to prop up other characters that people don't know," said Gunn (via The Hollywood Reporter).
One of the biggest news is easily a new Superman movie, titled Superman: Legacy with a release date of July 25, 2025. But a new Superman isn't the only thing that's defining the new DCU.
A brief rundown of DC's Chapter One projects is as follows:
Creature Commandos: A new animated series written by James Gunn, and a modern take on characters who were monsters assembled to fight Nazis. The show is currently casting, but Gunn and Safran say that the voice actors will also play the characters in future live-action verisons.
Waller: A TV spin-off with Viola Davis back as her intimidating Amanda Waller, who oversees the Suicide Squad.
Superman: Legacy: James Gunn is writing a new Superman film that will (re)introduce Superman to the screen. Titled Superman: Legacy, the film is not an origin story but will have Superman balance his Kryptonian heritage and his Earth upbringing.
The project is also seen as the primary launch, the "true beginning" for the new DC; Gunn and Safran described Creature Commandos and Waller as appetizers, but Superman: Legacy will be the real beginning of Chapter One. In the video, James Gunn used art from Grant Morrison's seminal All-Star Superman, indicating the film will borrow elements from Morrison's iconic story. At the event, it was reiterated that Henry Cavill will not return as Superman.
Lanterns: A Green Lantern television series modeled after True Detective. It will center on the characters Hal Jordan and John Stewart, and will play "a really big role in leading into the main story we are telling across film and TV."
The Authority: A movie and "passion project" of Gunn's based on the Wildstorm comic book, about superheroes who go to extreme lengths to save the world.
Paradise Lost: A new HBO Max series set in Wonder Woman's birthplace of Themyscria. It is said to be an elaborate political costume drama like Game of Thrones. It will also be set between the two Wonder Woman films, which suggests Gal Gadot may not be totally out of the DCU just yet.
The Brave and the Bold: A new film that will introduce a new Batman to the DCU (who isn't Robert Pattinson), and will introduce Damian Wayne as Robin. "This is the introduction of the DCU Batman," said Gunn. "It's a very strange father-and-son story."
Booster Gold: A new HBO Max series based on the cult favorite superhero, Booster Gold.
Supergirl: Woman of Tomorrow: Loosely adapting Tom King's recent miniseries of the same name, the film will follow Superman's teenage cousin who, unlike the Man of Steel, actually saw her world perish.
Swamp Thing: A horror movie and origin story of Swamp Thing that will close out the end of Chapter One of the DCU.
In addition, a sequel to last year's hit The Batman is also in the works, with Robert Pattinson reprising his Dark Knight and Matt Reeves back in the director's chair. Set apart from the DCU and falling under a new label, "Elseworlds," The Batman: Part II will be released on October 3, 2025.
In a social media video, James Gunn confirmed that this year's remaining DC films, including Shazam! Fury of the Gods, The Flash, Blue Beetle, and Aquaman and the Lost Kingdom will remain part of the canon and will segue into Gunn and Safran's new era.