Dune 2's Delay Isn't the Death Knell for Fall Sci-Fi Movies You Think It Is
The year's sci-fi slate is still surprisingly promising.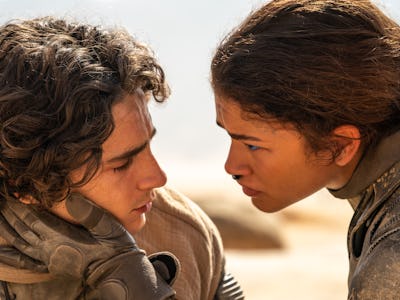 Warner Bros. Pictures
Warner Bros. Discovery single-handedly upturned the entire fall movie season when it decided at the end of August to push Denis Villeneuve's Dune: Part Two to March 2024. Prior to its delay, Dune: Part Two was shaping up to be 2023's biggest fourth-quarter movie, and there was very little around it that seemed like real competition. Its delay has, consequently, left a potentially gaping hole in this year's fall release schedule, one that not many movies feel capable of filling (sorry, The Marvels).
Just because Dune: Part Two had the potential to be the most well-made sci-fi blockbuster since, well, Denis Villeneuve's first Dune, doesn't mean there aren't several other exciting sci-fi movies hitting theaters this fall and winter, though. Even without Dune: Part Two, the sci-fi lineup for the rest of this year still seems extremely promising. Indeed, from Zack Snyder's new sci-fi blockbuster to Gareth Edwards' ambitious Rogue One follow-up, there are a few forthcoming titles that could help ease the pain of Dune: Part Two's delay.
While it's unlikely that any of this year's remaining blockbusters will be as critically acclaimed or financially successful as many believe Dune: Part Two is destined to be, that doesn't mean sci-fi fans don't have anything to look forward to over the next few months. On the contrary, September is set to end with the release of one of this year's most intriguing sci-fi films: The Creator. The movie is the first that Rogue One director Gareth Edwards has made since that beloved but famously troubled Star Wars blockbuster hit theaters in 2016.
Based just on its trailers, The Creator looks like it'll be, at the very least, just as visually striking as any of Edwards' previous films. The film was, notably, shot by Dune cinematographer Greig Fraser, so on the off chance that its compelling, AI-centric story doesn't pack as much of a punch as viewers want, it's still primed to be one of the year's most breathtaking cinematic experiences.
After The Creator, audiences can look forward to The Hunger Games: The Ballad of Songbirds and Snakes, a Hunger Games prequel from director Francis Lawrence that looks far better (and weirder) than it frankly should. Zack Snyder, meanwhile, is set to cap the year off with the first installment of his new, Star Wars-inspired two-part blockbuster, Rebel Moon. The film promises to be a massive, visually and narratively ambitious sci-fi drama — one that could launch a whole new franchise for both Snyder and Netflix. Like Dune: Part Two, it promises to proudly bear the fingerprints of its auteur creator in every one of its frames.
Thanks to The Creator and Rebel Moon, the coming months boast an impressive slate of auteur-driven sci-fi blockbusters even without Dune: Part Two. There are several smaller sci-fi titles set to hit theaters over the next few months, too, including Poor Things, Yorgos Lanthimos' new Frankenstein riff; No One Will Save You, Brian Duffield's promising alien invasion thriller; and Garth Davis' Foe, a soft sci-fi drama about a married couple (played by Saoirse Ronan and Paul Mescal) whose relationship is threatened by a mysterious offer involving AI. (There's also The Marvels, but given Marvel Studios' recent track record, it's hard to say for certain how much promise that film holds.)
Whether or not any of this year's forthcoming sci-fi movies are able to match the quality of Dune: Part Two is something viewers won't know until that sequel hits theaters next March. Either way, while that film's delay is a development worth mourning, it doesn't mean that this year's remaining months won't still have more than their fair share of memorable big-screen experiences to offer. As a matter of fact, when it comes to new sci-fi content, 2023 has the potential to be one of the best years moviegoers have gotten in a long, long time.