Star Wars' Most Contentious Director Is About to Take a Huge Sci-Fi Risk
Gareth Edwards is building a world of his own.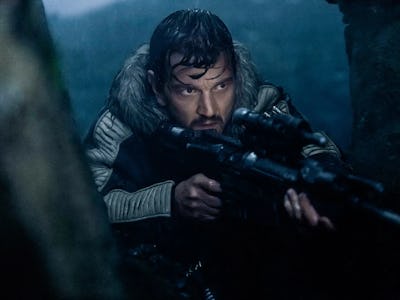 Lucasfilm
It's hard to get an original sci-fi idea made. The media landscape is dominated by existing franchises: Star Wars, Star Trek, Marvel. Still, new phenomena can emerge on occasion. Just look at Squid Game or Stranger Things. Now, 20th Century Fox is betting The Creator will be the next big thing. Directed by a Star Wars veteran, this original sci-fi is an AI-focused dystopia.
Director Gareth Edwards previously helmed Rogue One, and has seen his work on the movie be debated for years after Rogue One's writer, Tony Gilroy, directed the movie's reshoots. Gilroy then went on to make a Star Wars splash with Andor, while the blame for any perceived flaws in Rogue One fell on Edwards, no matter how unfair that summation might be.
Now Edwards has a chance to prove himself with a world where a rogue AI bombs Los Angeles, sparking a war between humans and robots while one man (John David Washington) is sent to retrieve a superweapon that happens to look like a little girl.
The Creator has impeccable timing, as AI is at the forefront of discussions surrounding Hollywood's writer and actor strike. As creators fight for the right to write and act in film and television, The Creator can explore AI issues while demonstrating just how indispensable the human element is.
Star Wars and the MCU may dominate at the box office, but you can't halt progress. Developing new ideas is the only way to innovate and evolve the genre. Hopefully by the time fans get to see The Creator this fall, humans will have won their own war against AI, and Edwards will have earned a little redemption.
The Creator premieres in theaters September 29, 2023.