Rebel Moon Trailer Reveals Zack Snyder's Long-Awaited Star Wars Knockoff
Once upon a time, in a galaxy that looks awfully familiar...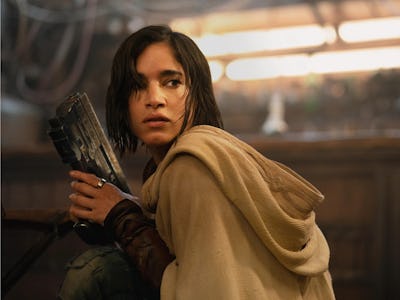 Netflix
Zack Snyder has dabbled in seemingly every genre. He's done a zombie heist movie, a four-hour superhero opus, an animated fantasy about owls, and a girlboss action movie. Now, he's leaning hard into a genre he's only flirted with before: science fiction.
Snyder's dream space opera has always been a hard sell. It began life as a "Seven Samurai in space" Star Wars movie, but the fact it included no existing Star Wars characters made it a poor fit for Lucasfilm. So Snyder took his 172-page screenplay to Netflix, where it was split into two movies: Rebel Moon: Part One — A Child of Fire, and Rebel Moon: Part Two — The Scargiver.
Now, we finally have a trailer for the first movie and a release date for both of them.
At Gamescom, Zack Snyder introduced the trailer by teasing a tie-in video game and noting the unique duology format Netflix is supporting. Part One hits Netflix on December 23, while Part Two arrives on April 19, 2024. He also highlighted Oscar-winning actor Anthony Hopkins — whose voice is heard throughout the trailer — and his robot role, but said Sofia Boutella forms the heart of the story.
Rebel Moon is described as "a space opera that follows a young woman living in a peaceful colony on the outskirts of the galaxy. She's given the task of finding warriors who can fend off an impending invasion by the despotic Regent Balisarius." In practice, it looks an awful lot like a grungier Star Wars.
From the costuming to the robot design to the line "I was taught love was a weakness," it feels like Snyder didn't let trifling details like Lucasfilm saying no stop him from making his Star Wars movie. There's even a character who wields what could only be described as two red lightsabers.
Perhaps the biggest question raised by the trailer is whether Zack Snyder has the storycraftng and marketing skills to differentiate this space opera from the one that so clearly inspired it. With Netflix behind him, he may just be able to pull it off. Let's hope the Force is with him.
Rebel Moon: Part One — A Child of Fire premieres December 23, 2023. Rebel Moon: Part Two — The Scargiver premieres April 19, 2024 on Netflix.