Dune 2 Delayed? Why Pushing Back the Release Date Isn't a Problem
It wouldn't be Dune if there wasn't a mild catastrophe.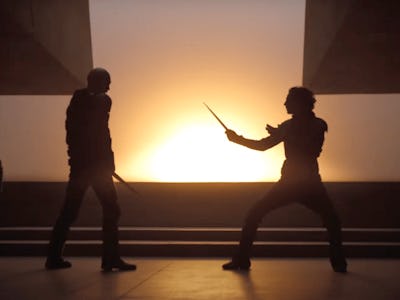 Warner Bros
Dune
We may receive a portion of sales if you purchase a product through a link in this article.
Throughout the grand history of sci-fi storytelling, no one would ever call Dune an easy layup. It's an underdog franchise with many adaptations that haven't ended well. With the rumored delay of Dune: Part Two swirling out there in the sand, it's time to ask the question on the lips of Dune fans everywhere: do the challenges faced by Dune: Part Two prove the "Dune Curse" is real?
The answer is probably yes. But luckily, we've learned the Dune Curse can't kill Dune. Here's why.
If you don't believe in the curse, consider this: Frank Herbert's first Dune novel was rejected over 20 times before it was published. His first sequel, Dune Messiah, was panned and sold poorly. In the '70s, attempts by Arthur P. Jacobs and Alejandro Jodorowsky to make a Dune movie failed to result in a single second of footage. In 1984, David Lynch got a Dune movie over the finish line, only to see it flop. A 2000s Sci-Fi Channel miniseries was a cable TV hit generally well-regarded by hardcore fans, but it was quickly overshadowed by more prestigious Sci-Fi originals like Battlestar Galactica.
From 1999 on, the various Brian Herbert and Kevin J. Anderson prequel and sequel books contained controversial storylines that continue to divide fans. One of those books, Sisterhood of Dune, is the loose basis for an HBO series that's been in development hell since 2019. The first of Denis Villeneuve's Dune films was delayed a full year by COVID, resulting in its simultaneous theatrical and streaming release in 2021. The choice to release Dune: Part One on streaming so soon put Villeneuve at odds with Warner Bros, and for a hot second, Dune: Part Two, which will finish the first book's story, wasn't even formally green-lit.
This brings us to the present day, in which there are rumors the actors' strike could result in Dune: Part Two getting pushed from its November 3, 2023 release slot to sometime in 2024. But even if this happens, it's going to be okay.
Will Dune 2 Be Delayed Until 2024?
Maybe, but probably not. Although Variety reported that both the writers' and actors' strikes might encourage studios to delay their Fall 2023 releases, the IMAX exclusivity window for Dune: Part Two is locked in, which suggests the movie will come out in November as planned. No one from Warner Bros. has even confirmed a Dune: Part Two delay, although it has been acknowledged that if the strikes aren't resolved by November, Timothée Chalamet won't be doing any talk shows, and we won't see the movie's stars walking the red carpet at its premiere.
A Dune 2 delay isn't the end of the world — or Arrakis
Even if Dune: Part Two is delayed until 2024, fans won't turn on the movie. A quick dip in the Dune subreddit reveals what fans already know: Dune people are patient. As one commenter put it, "I've waited years to see this. I can wait years more. All power to the striking workers."
While some fans are understandably upset about a possible delay, the idea of Part Two getting pushed back a few months is nothing compared to what fans have gone through over the past six decades. Hell, if you were reading Analog, the magazine in which Dune was serialized, back in 1964, you encountered a cliffhanger that wasn't resolved until 1965.
From its earliest inception to its latest incarnations, Dune is connected to the idea of struggle and incompleteness. This paradox is intrinsic to loving the franchise. It's not cursed; that's just how it is.
Dune: Part Two is scheduled to hit theaters on November 3, 2023.