The Biggest Sci-Fi Movie of the Year Won't Be Affected by Hollywood Strikes for an Unsurprising Reason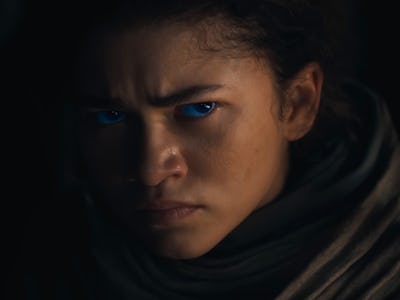 Warner Bros.
The Dune fandom has been on a roller coaster ride. Fans have been anticipating the sequel to Dune: Part One since the film ended on a quasi-cliffhanger in 2021, and with a release date for Dune: Part Two fast approaching, the wait is nearly over... as long as Warner Bros. and Legendary follow through on their plans.
Variety reported the co-producers may push Dune: Part Two from November 2023 into spring 2024. With the actors' guild on strike, Dune's talent can't promote the film, which could affect WB's notoriously thorough marketing campaigns. The news blindsided fans, so if this was WB's way of turning public opinion against the strike, it was effective.
Neither Warner Bros. nor Legendary has confirmed Variety's story, but other sources are already weighing in. According to IMAX CEO Richard Gelfond, Dune: Part Two is already set for a six-week theatrical run, and given how much IMAX helped sell Part One, it would be odd not to stick to the schedule.
Gelfond's statements come from a Q2 earnings call for IMAX shareholders. According to the CEO, Dune is "highly unlikely" to move its theatrical release. Gelfond implied that behind-the-scenes factors are locked in, saying, "Dune is already in the midst of a marketing campaign ... [director] Denis Villeneuve presented at the IMAX CEO Forum. So, it's kind of out of the gate."
Warner Bros. and Legendary have also committed to "a very long run time in IMAX, up to five or six weeks." If Dune were to be delayed, there would be little IMAX real estate available, as most blockbusters have already booked their own IMAX windows. "I don't think it's replicable for them to have that kind of run time again," Gelfond said.
Promotional campaigns rely heavily on talent, but delaying the film could cost WB more in the long run. "If they move Dune 2, there's a carrying cost, call it 10% or whatever it is," Gelfond explained. "The only reason they would move it is they'd say, the actors' strike is going on, and they want to get a premiere and put it on The Tonight Show or [wherever] they put the actors. But with no disrespect to Timothée Chalamet: Are you going to be able to make up for losing the six-week IMAX release?"
Gelfond has his own reasons to underline IMAX's importance, but he still makes a good point. If WB is looking at the same numbers IMAX is, it would make more sense to cut losses on marketing rather than sacrifice a plush IMAX window. Studios are in it for the money, and a lengthy IMAX release gives them their best opportunity to make as much of it as possible.
"The IMAX release is a really important element to their release pattern," Gelfond added. "IMAX was about 20% of the growth on Dune 1." The film was also one of 2021's highest-grossing, so anticipation is high for its sequel, even without the weight of a star-studded marketing campaign behind it.
The choice ultimately lies with the studios. Artists are important, as the SAG strike is making clear, but until studios can give their workers a fair deal, they'll have to get comfortable making sacrifices.