Venom 3 Is Coming Sooner Than You Think, Tom Hardy Reveals
The next chapter of Marvel's gooiest antihero is coming sooner than fans think.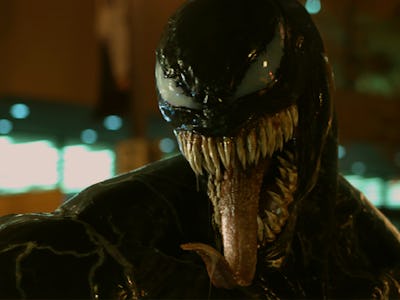 Sony Pictures Releasing
Kang the Conqueror this, Avengers: Secret Wars that. You didn't forget about Venom, did you? You shouldn't, because a third Venom movie is closer to becoming reality.
On February 22, Venom star Tom Hardy shared an Instagram post confirming pre-production on the third Venom movie. To mark the occasion, Hardy shared a deleted scene from the first film, released almost five years ago.
"Whilst working on V3 pre prep @lelping @sonypictures @sony @venommovie this throwback came up," Hardy wrote. @lelping is Kelly Marcel, screenwriter of all the Venom movies, and Venom 3 director, her first gig behind the camera.
Venom 3's release date isn't known. Though pre-production has begun, the movie still has to go through lengthy principal photography and post-production, which is when the VFX work makes Venom's eyes as creamy as can be. A release date of 2024 is unlikely, but 2025 is realistic.
Work on a third Venom hasn't been a secret. In December 2021, after the release of Venom: Let There Be Carnage and during the promotional cycle for Spider-Man: No Way Home, producer Amy Pascal confirmed Venom 3 was being planned. Sony teased Venom 3 at CinemaCon in April 2022, though declined to share any more information.
Given the strong box office of Venom and Venom: Let There Be Carnage, which collectively grossed over $1.4 billion, it's obvious why Sony is keen to stick with Venom. It's more than proven itself to be an appealing franchise, even without Spider-Man cameos. But Tom Hardy's post is a pleasant way to learn that the next chapter of Venom is farther along than fans might have thought. While story details are still a mystery, the movie will have to address the giant spider in the room: in the post-credits scene of Spider-Man: No Way Home, Hardy's Eddie Brock made a surprise appearance in the Marvel Cinematic Universe. Eddie was soon flung back to his reality, but a piece of the symbiote remained behind.
A confrontation between Spider-Man and Venom has yet to happen, and with Spider-Man swinging for Marvel Studios, it's unknown if and when Spidey could get caught up in Venom's antics. There may, however, be a chance fans will see them throw down in Avengers: Secret Wars. Not only is the 2026 Avengers film poised to stage a crossover of the Marvel multiverse, but it was in the original Secret Wars comics that Spider-Man came in contact with the symbiote. If there's ever a chance for Spider-Man and Venom to duke it out, it's there.