Marvel Cinematic Universe
Quantumania Writer Hints at What Makes Kang Much More "Dangerous" Than Thanos
While set up as the next big villain of the MCU, Kang the Conqueror shouldn't be seen as a pale imitation of Thanos.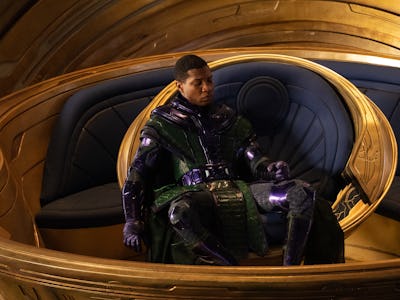 With Ant-Man and the Wasp: Quantumania, the Marvel Cinematic Universe is about to introduce another major villain with a penchant for purple color palettes, and whose grand plans will force the Avengers to assemble again.
His name is Kang the Conqueror, but there's a critical difference that separates Kang from the "Mad Titan" known as Thanos. Namely, it's the actor.
In a red carpet interview with Variety at the L.A. premiere of Quantumania, screenwriter Jeff Loveness made an observation about Kang that highlights what makes him a unique MCU antagonist.
"Jumping off of Loki where he's an unexpected, whimsical kind of character, we just wanted to break expectations," Loveness said.
Loveness added that everyone expected "a funnier or goofier" villain for the third Ant-Man. "[Director Peyton Reed] and I said, 'No, let's put Ant-Man up against the most dangerous villain in the multiverse. Let's do the opposite of what you saw in Loki, and let's make this the worst of the worst, and there's a reason he's here."
Loveness praised actor Jonathan Majors as "incredible," while explaining how the casting of a chameleonic actor is crucial to the multiversal Kang. "I don't think I've seen a screen actor like him in quite some time. The guy nailed every line, and I've never had such a thrill writing for an actor like him before."
At a glance, Loveness' quotes aren't so revelatory. But reading between the lines, Loveness nods to just how different of a character Kang will be from Thanos. Unlike Thanos, Kang has an infinite number of identities. In the comics, Kang has multiple egos spread across timelines and universes, and the Avengers encounter several different versions of him. Among Kang's personalities are the Egyptian Pharoah Rama-Tut, a Wisconsin mayor named Victor Timely, a millionaire named Qeng Gryphon, and even his own Iron Man-like superhero, Iron Lad.
Thanos, meanwhile, was just Thanos. While there were alternate versions of Josh Brolin's villain, like the recycled Thanos of Earth-838 in Doctor Strange in the Multiverse of Madness and "Cool Guy Thanos" in What If...?, Thanos doesn't have the vast array of divergent personalities that Kang does. For the MCU, a character like Kang is perfect for preventing monotony in a franchise that's all too prone to playing things safe.
It helps that Jonathan Majors is a proven talent who can give Kang depth. We've already seen his range when he was "He Who Remains" in Loki, and now we're about to see a new Kang in Quantumania. While it's uncertain what Marvel's plans are for Kang beyond Avengers: The Kang Dynasty, it's not hard to see Majors slipping in and out of the MCU in the lead-up to the next Avengers. The only thing that could stop Marvel is Majors' status as a highly in-demand actor; besides Ant-Man, Majors is set to beat up another cinematic hero, Michael B. Jordan's Adonis Creed, in Creed III. If only Majors could recruit his variants to perform all his other roles for him.
Ant-Man and the Wasp: Quantumania will open in theaters on February 17.