Taika Waititi's Thor 5 Could Fix a Marvel Problem — If It Actually Happens
The God of Thunder needs a "formidable" challenge.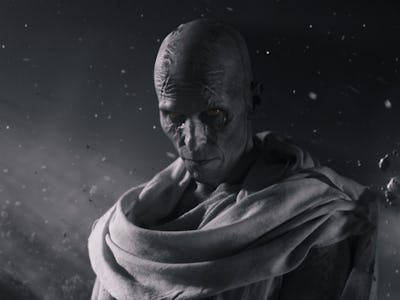 Marvel Studios
No one's really clamoring for a new Thor movie right now. The God of Thunder returned for his fourth solo adventure in 2022, but Thor: Love and Thunder was a disappointment from top to bottom. One of its few redeeming qualities came in the form of its villain, Gorr the God Butcher; Christian Bale's portrayal cleverly subverted the image of the burly comic-book villain, depicting Gorr as waiflike and eerie. Love and Thunder may have been a dud, but it's rare among Marvel Cinematic Universe movies in featuring a memorable antagonist. If the Thor saga is going to soldier on, it needs to retain that feature.
As the director of Love and Thunder and its predecessor, Thor: Ragnarok, Taika Waititi understands what a Thor film needs. Regardless of how you may feel about his latest MCU effort, the filmmaker has a solid grasp on Thor's ongoing journey. Waititi's not officially returning for a fifth Thor — Thor 5 isn't even officially in the works — but he still has a few ideas about Thor's next adventure. In Titan Books' upcoming Love and Thunder book (via ScreenRant), Waititi spoke about a hypothetical Thor 5, and what it would need to do to prove its worth.
"It's got to be something that feels like it's carrying on with the evolution of the character," Waititi said, "but still in a very fun way." Thor's antagonist in a new film would have to present a real challenge to the hero, all while "building on the obstacles" he's overcome since his introduction in 2011.
"I don't think we can have a villain that's weaker than Hela," he continued. "I feel like we need to step up from there and add a villain that's somehow more formidable."
Cate Blanchett's Hela was a highlight of Thor: Ragnarok. Not only was she one of the MCU's first female villains, but she presented a unique challenge to Thor, having forced him to reckon with his role as the God of Thunder and the ties that bind him to his home on Asgard. Her introduction was also a memorable part of Ragnarok's weird, colorful world. Waititi took a page from Guardians of the Galaxy to bring Thor into the cosmic side of the MCU, which is something he hopes a fifth Thor movie could continue, pitting the hero against "more and more outlandish and crazy beasts, monsters and aliens" that will honor Thor's comic and mythological roots.
At this point, of course, this is mostly just wishful thinking. Thor 5 is far from getting a green light, and there's no guarantee that Waititi or even star Chris Hemsworth would be interested. "If an audience wants to see it, and if there's something that we believe is exciting and fun, then great," Hemsworth recently told EW. "I don't have the answer yet, but I would love to try and [figure out] how we can do that again and keep it a little unpredictable."
Regardless of whether Waititi returns to hammer out Thor's story, hopefully Marvel takes his advice and keeps challenging the hero with some truly interesting villains.