Why "Thor: Ragnarok' Did So Well at the Box Office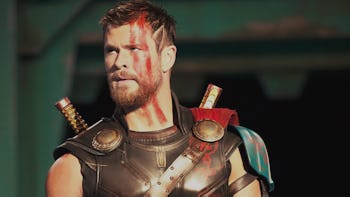 Marvel
Thor: Ragnarok has smashed the box office, raking in a cool $121 million in its opening weekend, according to Deadline. The Marvel threequel in the Thor franchise also boasts a 93% rating on Rotten Tomatoes as of press time. It has the distinction of being a hit with audiences and a critical darling — a tough feat for a movie about superheroes.
A combination of winning forces has boosted the film's success. Primarily, Thor: Ragnarok is funny, which is a refreshing spin on classic superhero fare. Action flicks can feel very deadpan, and a reliance on grim writing is a way to make superheroes seem more complex than they actually are. Sara Stewart writes at the New York Post that Thor: Ragnarok is "witty, it's weird and it goes against decades of bloated, overserious comics fare." Director Taika Waititi, who has directed mainly indie movies in his home country of New Zealand, infused the movie with a sense of humor that is a welcome relief from the news.
The casting is also superb. Chris Hemsworth is being lauded for his role as a slightly oafish, honest, and, and charismatic Thor. Supporting roles are rounded by a who's who of universally beloved actors: Cate Blanchett (sporting a head of giant antlers), Idris Elba, and Jeff Goldblum, who's spent the opening weekend playing up his cult adoration all over the press. The cast is given room to flex their comedic muscles (and in Hemsworth's case, his real ones), and fans are responding a highly talented ensemble cast in a realm that doesn't feel rife with pressure. When was the last time we saw Dr. Ian Malcom play a villain who wears blue makeup?
Ultimately, Thor: Ragnarok succeeded because Waititi crafted a film that allows audiences to escape with some of their favorite Hollywood faces, but doesn't couch their star power in melodrama. He's delivered Marvel's highest critically-rated film yet, and a $121 million opening proves that moviegoers adore his originality.