'Thor: Love and Thunder' will "double down" on 'Ragnarok' levels of madness
Taika Waititi teases what's ahead for Thor in Phase Four.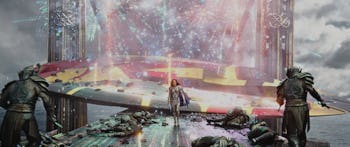 Marvel Entertainment
There are only two eras in the MCU: Before Thor: Ragnarok, and after Thor: Ragnarok. The 2017 hit from director Taika Waititi was a hard refresh — not only for the once-middling Thor franchisel but for superhero movies in general. Now, that groundbreaking tone will feature predominantly in Thor: Love and Thunder.
In a new interview published in Wired, director Taika Waititi teased what's to come in Thor: Love and Thunder, which will see the return of Chris Hemsworth, Tessa Thompson, and Natalie Portman, who will again portray Jane Foster as she takes up the mighty hammer of Thor. The movie has a release date scheduled for November 5, 2021.
"It's going to be bigger and louder and more bombastic," Waititi said, amidst the promotional tour for his new World War II satire Jojo Rabbit. says. "It's only interesting to me if we're doubling down on how nuts Ragnarok was." Elsewhere, Waititi has also confirmed he will reprise his role as Korg.
Wired also asked Waititi about fans "shipping" (romantically pairing fictional characters) Tessa Thompson's Valkyrie and Brie Larson's Carol Danvers, a.k.a. Captain Marvel. On social media, fans regularly publish fan art depicting Valkyrie and Captain Marvel as a couple. Both Larson and Thompson have helped fuel interest by retweeting fan art.
Waititi, however, "demurs" on the topic. "The thing is, I think it's dangerous for people to say too much about what they want with Marvel, because then they will tend to go the other way," he said. "You want to listen to the fans to a point. But also you don't want to have a completely fan-made film because then it doesn't feel like there's any point. You want to have people surprised."
That is certainly… a take from a Marvel director. While Waititi probably has a point on Marvel going the "other way" with regards to fans' expectations, the subject of legitimating a non-canon queer relationship is a little trickier. (It should be noted that besides the big fight scene in Avengers: Endgame, Thompson and Larson's Marvel heroes have not interacted in the movies.)
Something Waititi's interview with Wired did not mention is foreign censorship, which has become more influential on Hollywood movies in recent years. Since China in particular has become a major source of revenue for the industry, Hollywood has sometimes deferred to Chinese content regulation, meaning that LGBTQIA+ themes are a no-go.
Though there have been Chinese movies exploring queer relationships — here's a short list from Sixth Tone on gay films that saw release in mainland China in some form — it's a risk for multi-million blockbusters to feature any queer depictions, as Chinese censors can block the film's release.
For now, Thor: Love and Thunder is shaping up to be an even wilder intergalactic tour through the Marvel Cinematic Universe. Whether or not that journey will actually live up to its title by delivering both thunder and love in equal doses remains to be seen.
Thor: Love and Thunder is scheduled for release on November 5, 2021.