'Love and Thunder' may reimagine Thor for Marvel Phase 4, says Taika Waititi
Thor probably won't be sporting a beer belly next time.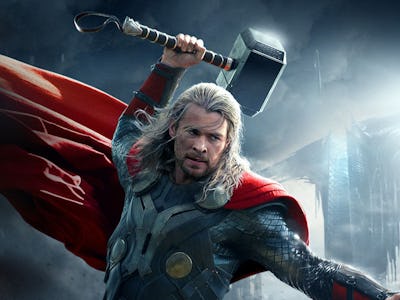 Marvel Studios, Walt Disney Motion Pictures
The last time we saw Thor in Avengers: Endgame, he was handing over the title of king to Valkyrie to join the Guardians of the Galaxy on their next adventure. During San Diego Comic-Con, Marvel Studios announced Taika Waititi would be back to write and direct Thor: Love and Thunder. But we probably can't expect the God of Thunder to be the same chipper lunkhead we know and love, after all he's been through.
Warning! Speculative spoilers about Thor: Love and Thunder below.
Chris Hemsworth's Asgardian has had an intriguing evolution since his introduction in the 2011's Thor. He went from being an egotistical son of Odin to becoming a worthy leader Ragnarok. In Endgame, he'd become the guilt-ridden, depressed, and chubby"Bro Thor." So yeah, the Asgardian has been through the ringer and is in need of a break. Does Thor 4 mean the end of "Fat Thor," though?
In a new interview with Yahoo!, Waititi revealed that Thor: Love and Thunder will continue the trend of showcasing a new version of the hammer-wielding Avenger.
"We always want to keep changing it up with Thor. He's so interesting when he's changing all the time," the director said. So it seems that "Bro Thor" will be a thing of the past. Whether or not that means a return to classic Thor remains to be seen. His new adventures with Star-lord and Groot might see the beloved Norse God turning into "Tree Thor,," for all we know.
Thor's appearance will likely be determined by where his next adventure falls within the MCU continuity. Per Waititi, who recently revealed that Korg will return, he's gone back and forth with Marvel executives about the timeline. There was apparently some uncertainty regarding when Love and Thunder, which will see the introduction of Natalie Portman's Mighty Thor, will be set.
James Gunn's temporary firing from Guardians of the Galaxy Vol. 3 may have shaken up the MCU timeline more than we thought. After all, Vol. 3 had been expected to begin filming this year and hit theaters in 2020. However, Gunn's firing in 2018 pushed the production date back. Currently, Guardians of the Galaxy Vol. 3 is set for a 2022 release.
Now, with Thor 4 scheduled for a 2021 release, it's looking like the fourth installment will actually be set after The Eternals, but before Guardians 3, instead of the other way around. That said, even if The Eternals comes out first, it doesn't necessarily mean it precedes the the other films chronologically.
How this will affect Love and Thunder's plot is anyone's guess, but the film's events were likely altered somewhat due to this unexpected change. Perhaps this is why Waititi is only now announcing the completed draft for Thor 4, when it had been speculated the script was completed a couple of months ago. Is this the end of Asguardians of the Galaxy? We'll have to wait and see.
Thor: Love and Thunder hits theaters November 5, 2021.