Netflix's Coolest Sci-Fi Movie of the Year Is a Thrilling Genre Mash-Up
This conspiracy ain't a theory.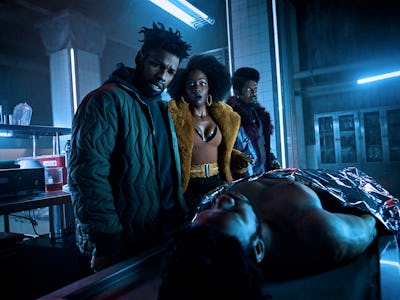 Netflix
Jamie Foxx's ongoing partnership with Netflix has quietly churned out some exciting genre mash-ups. They can't all be hits (looking at you, Day Shift), but it's been fun to watch Foxx ham it up whenever possible.
Foxx is returning to the streamer in July with They Cloned Tyrone, a sci-fi mystery with a cheeky blaxploitation spin. And this time around, he won't be the only one hamming it up: Foxx is joined by Star Wars alum John Boyega, as well as Teyonah Parris (Candyman, The Marvels). Together, they form an unlikely trio that uncovers a stomach-churning conspiracy.
They Cloned Tyrone puts a unique spin on the paranoia that's fueled some of the best sci-fi thrillers. Not unlike Attack the Block — which served as Boyega's bombastic debut — or Boots Riley's Sorry to Bother You, it's all about the tempestuous relationship between the Black community and the forces that look to control it. The idea that the government would experiment on Black bodies is not new, and it's one They Cloned Tyrone embraces in an intriguing new way.
See how the conspiracy unfolds in the They Cloned Tyrone trailer:
That They Cloned Tyrone is channeling classic '70s blaxploitation like Coffy, Superfly, and Shaft is only part of the film's appeal. It also looks very funny, and that's thanks in part to its three leads flexing their underrated comedy chops. Foxx and Parris apparently improvised throughout the shoot, which kept Boyega on his toes. He's mostly the Straight Man playing against their antics, but it's still fun to see Boyega in a film that knows exactly what to do with his talents again. Creed II writer Juel Taylor is making his directorial debut here, and They Cloned Tyrone looks like the perfect storm of a good story, slick direction, and strong characters. Hopefully, it sticks the landing when it hits Netflix in July.
They Cloned Tyrone hits Netflix on July 21.