John Boyega reveals how he tried to fix Finn's role in 'Rise of Skywalker'
"Hopefully you like it!" The Star Wars star addressed some criticisms about 'The Last Jedi' on Twitter.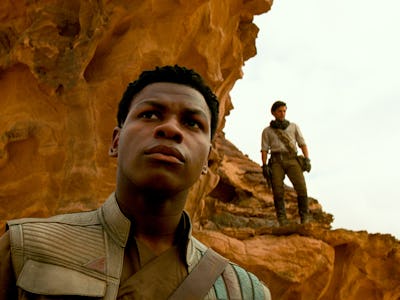 Lucasfilm
If you felt Finn got the short stick in Star Wars: The Last Jedi, John Boyega doesn't disagree with you. In a tweet to a fan, the actor revealed that he personally advocated for more Finn in Star Wars: The Rise of Skywalker, and director J.J. Abrams seemed to listen to him based on Finn's prominence in promotional material.
On Tuesday, Porg-hater John Boyega responded to a fan on Twitter who told the actor that they weren't a fan of either 2015's The Force Awakens or 2017's The Last Jedi, but that they liked Finn "from the start."
"Really wish they'd developed it more and didn't completely waste him in [Episode] 8," said the fan, identified as André Felipe Maccarini on Twitter (@by_t0r). Boyega responded, "I hear you! Give it a shot ep 9! I was really adamant on more Finn involvement. Hopefully you like it!"
Based on all the promotional material for Star Wars: The Rise of Skywalker, the filmmakers heard Boyega's pleas. The former Stormtrooper turned Resistance hero can be seen in a lot of the trailers for Episode IX, from joining Poe (Oscar Isaac) and Rey (Daisy Ridley) to riding "space horses" (orbaks) alongside Jannah, a Resistance leader played by Naomi Ackie.
While I personally enjoyed Finn and Rose (Kelly Marie Tran) on Canto Bight — it was a clever twist on the hives of "scum and villainy" the films frequently depict — it seems even Boyega wasn't totally pleased with Finn in The Last Jedi. His fight scene with Captain Phasma still rocks, even if it's a bit short.
So what does this mean for The Rise of Skywalker? Well, we can guess that the movie won't just be The Rey Show. Which The Last Jedi was not, but it was definitely Rey's movie due to the stakes and plot the film centering almost exclusively on Daisy Ridley's character. The result is that The Last Jedi had an uneven focus towards its three principal characters, with Finn especially getting lost in a shuffle that also included Poe, Rose, and Benicio del Toro's traitorous DJ.
And although it's Rey undergoing a journey with the Force that includes inheriting Luke's lightsaber, I still rewatch Finn's fight scenes from The Force Awakens. Most fans took umbrage at a rookie Stormtrooper being able to handle a lightsaber, but I thought it was just cool as hell. The Rise of Skywalker may or may not give Finn another go with a lightsaber, but hopefully, the movie still does right by him.
Star Wars: The Rise of Skywalker hits theaters on December 20.