Those space horses in 'Rise of Skywalker' have a name, thank you very much
And they're not riding them in space. We think.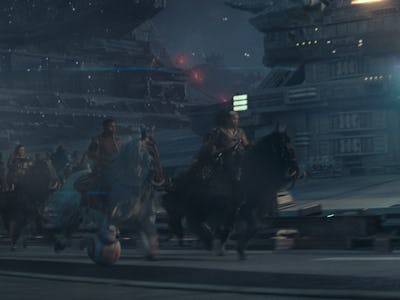 Lucasfilm
They galloped their way across the stars, and into our hearts. In the final trailer for Star Wars: The Rise of Skywalker, members of the Resistance, led by Finn (John Boyega) and Jannah (Naomi Ackie) ride atop a herd of orbaks in one of the most stunning shots in the trailer. And considering this is The Rise of Skywalker we're talking about, that's saying a lot.
On Monday, during ESPN's broadcast of Monday Night Football (sorry, Jets fans), Disney and Lucasfilm released the trailer for Star Wars: The Rise of Skywalker. But while the Emperor's chilling return, Rey versus Kylo Ren atop a fallen Death Star, and Dominic Monaghan are all big deals, the biggest has to be the "space horses" that Star Wars fans got to see in action for the first time.
But please, don't call them "space horses." Those tusked beauties are actually orbaks, and they are creatures native to the desert planet Pasaana. While they look and pretty much act like horses, they also have long, wavy fur, long boned faces, and mammoth-like tusks.
All we know so far is that the creatures were first revealed in Vanity Fair's big photo spread for The Rise of Skywalker earlier this year. Little else is known about the majestic orbak, including how they were made behind the scenes.
All those porgs in Star Wars: The Last Jedi, for example, were actually puffins under VFX, as the Irish island of Skellig Michael is inundated with puffins. Here's a picture of Mark Hamill shooting a scene with puffins behind him before the visual effects work. It's possible that the orbaks are horses under similar makeup. This is supported by Naomi Ackie, who took up actual training in order to ride the orbaks. She told Total Film Magazine (via GamesRadar):
"I was training for seven months, three times a week, at an amazing horse ranch called The Devil's Horsemen. By the end of it, I could canter without any hands. I could play catch with balls while on a horse… It's the best part of the job – you get paid to learn!"
Also, you might want to stop calling them "space horses." They're not actually riding in space, because that would be hard and kind of terrible. The shot in the trailer where they appear seems to take place on the ice planet Kijimi, where much of the climax The Rise of Skywalker might set. (It's probably where the Emperor's new throne room is located.)
It looks as if the Resistance had the bright idea of taking all the orbaks from Pasaanna and bringing them to Kijimi for very strategic, um, strategy. I'm sure it'll all make sense when we actually see The Rise of Skywalker.
Star Wars: The Rise of Skywalker opens in theaters on December 20.