'Rise of Skywalker' Death Star throne room callback may hint at Rey's fate
Does this showdown look familiar? It should.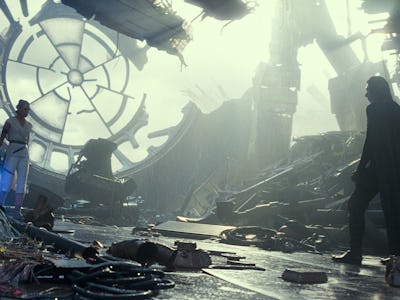 Lucasfilm
Lucasfilm released the final Rise of Skywalker trailer on Monday, and Star Wars fans the world over are still dissecting every second of footage for clues about what will happen in Episode IX. We've known for a while that a ruined Death Star and Emperor Palpatine would play major roles in the movie, but we weren't completely prepared for the intense Return of the Jedi vibes on display here. From the massive space battles, to the verdant jungle landscapes, to what might be Leia's speeder hat from Endor, there's a whole lot of shades of Episode VI here.
Perhaps the most striking callback to the finale of the original Star Wars trilogy comes in a stunningly composed shot from a showdown between Kylo Ren and Rey. The two are clearly standing in the ruins of the second Death Star, which once orbited Endor. The battered remains of the distinctive round window and Emperor Palpatine's swivel-throne can clearly be seen next to Rey. For reference, here's what this room looked like thirty years earlier, in Return of the Jedi:
Rey and Kylo's positions in this shot also recall Luke's confrontation with Palpatine in a fascinating way. (We've embedded the clip below if you want to check out the visual similarities yourself.) Rey's lightsaber is drawn, her shoulders tensed, and it seems she's the aggressor of the two. Not only does she have the high ground — never a good thing, particularly if you remember Obi-Wan and Anakin's duel in Revenge of the Sith — she's also implicitly taking Palpatine's place, armed and menacing next to the throne.
Meanwhile, Kylo Ren resembles Luke in Return of the Jedi here, brought before the Emperor unarmed and all in black. But without knowing the context of this scene, it's hard to know how this confrontation plays out. Elsewhere in the trailer, the two seemingly team up to destroy something that looks an awful lot like Darth Vader's helmet — does this standoff come before or after that? 
If you're familiar with some of the speculation surrounding The Rise of Skywalker, there's another interesting thread to tug on here. Consider this your spoiler alert: we'll be touching on leaks and rumors from here on out.
One of the most divisive rumors within the fandom in the moment claims that Rey has a unique connection to Palpatine. Essentially, she's either his granddaughter or he "created" her from the Force. For those who liked the "Rey is a nobody" twist in The Last Jedi, this seems like an unsatisfying reversal.
However, this may explain why Rey is literally standing in Palpatine's place in the latest Rise of Skywalker trailer. She probably isn't going to become Dark Rey for good, but it's clear her inclinations to the Dark side are still very much in play throughout this movie. We likely won't know for certain how Rey and Palps are connected until Rise of Skywalker actually comes out. (In the meantime, we're just hoping this confrontation doesn't end with anyone being tossed down a big ole hole like it did in Return of the Jedi.)
Star Wars: The Rise of Skywalker comes to theaters December 20.