The Marvels Trailer Brings Together Three Generations of Superheroes
Carol Danvers, Kamala Khan, and Monica Rambeau go higher, further, and faster in the first trailer for The Marvels.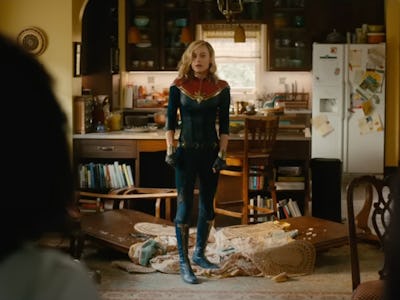 Marvel Studios
So far, aside from Wandavision and Loki, the promise of cinematic synergy between the MCU Disney+ shows and the films hasn't been fulfilled in a satisfying way — but that's getting ready to change based on the first trailer for The Marvels.
Brie Larson's Carol Danvers made her debut in 2019's Captain Marvel, and aside from showing up for a 1v1 sparring session in Avengers: Endgame, she hasn't really had much chance to stretch her legs as a character just yet. However, the ending of 2022's Ms. Marvel saw Carol inexplicably swap places with newly-minted superhero (and incidentally her biggest fan) Kamala Khan (Iman Velani), promising an exciting new team dynamic for the solo powerhouse.
See how that dynamic plays out in the trailer for The Marvels below.
Picking up directly after the ending of Ms. Marvel, The Marvels adds Monica Rambeau (Teyonah Parris) to the mix, the daughter of Carol's late best friend Maria (Lashana Lynch) who is also navigating superhuman abilities (courtesy of one Scarlet Witch). As the three of them are horrified to discover, each time they use their powers, they swap places in spacetime, forcing them to turn to Nick Fury (Samuel L. Jackson) and the intergalactic peacekeeping organization S.W.O.R.D. for help. Naturally, shenanigans ensue.
With Nia DaCosta behind the director's chair as the first Black woman hired by the studio, as well as reteaming with her Candyman star Teyonah Parris, it'll be fascinating to see what kind of new depth she brings to Monica and how she'll contextualize her relationship with Carol in the face of her mother's passing. As a massive comic book nerd in her own right, it'll be exciting to see how DaCosta meshes the strong character work of her smaller projects with a cosmic sense of adventure.
The Marvels opens in theaters on November 10, 2023.