Here's the one groundbreaking Marvel movie you need to watch before Ms. Marvel
Spider-Man: Into the Spider-Verse and Ms. Marvel share more aesthetic and tonal similarities than you'd expect.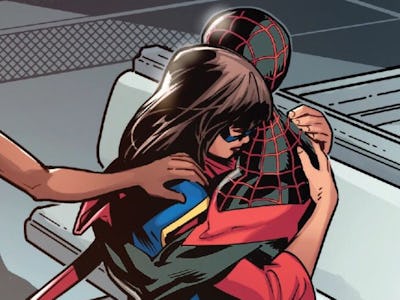 Kamala Khan and her polymorphous powers are about to mega-punch their way to Disney+ on June 8.
The 16-year-old Pakistani American, played by Iman Vellani, is the first superhero to receive the MCU coming-of-age treatment since Tom Holland's Peter Parker in Spider-Man: Homecoming. But this isn't Marvel's first show with pubescent superheroes.
Columbia Pictures, Sony Pictures Animation, and Marvel Entertainment stunned viewers tired of the same-old Peter Parker retellings in 2018 with the spectacular Spider-Man: Into the Spider-Verse. A breathtaking blend of CGI, 2D, and motion-blur animation techniques coupled with humor and heart, it caught the world's box office in its web and grossed $375.5 million worldwide.
Spider-Man: Into the Spider-Verse centers on the emergence of an entirely new version of Spider-Man. Miles Gonzalo Morales, voiced by Shameik Moore, is a lanky Afro-Latino and brilliant Brooklynite with a penchant for Chance the Rapper, graffiti, and science.
A radioactive spider bite shakes up Miles' day-to-day life — trying to get by at a fancy charter school and stay under the radar becomes harder with web-slinging abilities and a slew of enemies — but Miles gets some serious backup in the form of Spider-Men, Women, and Animals from across other dimensions.
In the comics, Miles is supported by friends and teammates like Kamala Khan, aka Ms. Marvel, who has remained a steadfast presence in his life throughout their many adventures together. Now that Kamala is getting her own cinematic debut, fans may be curious if the young heroes will bump into each other during the Disney+ miniseries.
To be clear, in the first two episodes that journalists were given, Miles Morales does not make a cameo appearance in Ms. Marvel. We're suggesting you watch his standalone animated origin story because it's an incredible movie that shares many aesthetic and tonal similarities with Ms. Marvel.
Admirers of Spider-Man: Into the Spider-Verse will be pleased with the visual playfulness and youthful vibrancy of Ms. Marvel, a huge divergence from the Marvel Studios' look and feel viewers have come to expect. Also worth noting is the show's careful handling of Kamala Khan's racial and religious background, which ensures it's an intrinsic part of her identity but not her only defining feature.
We can't entirely rule out a Miles Morales guest appearance on Ms. Marvel. However, in order to tell Kamala's origin story effectively in six episodes, provide room for meetups with characters more closely linked to her (like Carol Danvers), and ground of all that in the MCU timeline, Miles Morales likely won't be making the cut.
Still, Into the Spider-Verse is worth revisiting, because the parallels between the cartoon flick and the live-action miniseries are evident from the start.
From inspired soundtrack choices to awkward schoolyard crushes, Miles Morales' and Kamala Khan's on-screen origins have the same vibes. Like Spider-Man: Into the Spider-Verse, Ms. Marvel emphasizes Kamala's obsession with her hobbies, which include writing and illustrating vivacious Avengers fan fiction. Both capture the feeling of being enraptured with our teenage dreams before the responsibilities of adulthood set in.
Not only does Kamala's absorption with her art align with Miles' urge to paint over every wall in New York City, their dispositions are a refreshing change of pace. Unlike some of the more dour MCU figures featured in Phases 4 and 5, such as Wanda Maximoff (Elizabeth Olsen) and Moon Knight (Oscar Isaac), Kamala and Miles are affably brought to life by gregarious actors.
If you're a Disney+ subscriber waiting to fall in love with Ms. Marvel, Miles Morales' animated debut will whet your appetite for buoyant and quirky heroes.
Spider-Man: Into the Spider-Verse is streaming on FuboTV.