Stranger Things Prequel Theory Reveals a Sneaky Time-Travel Twist
An already flashback-heavy show is going back yet again -- but in a new way.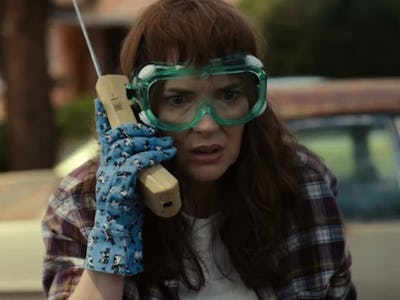 Netflix
Stranger Things doesn't lack for variety. Throughout its four seasons, we've seen mall combat, Cold War tension, Kate Bush salvation, and a horror story spanning decades. But in Season 4, one conceit kept returning: flashbacks. The series loves to blast back to the past, whether it was Eleven's mental journey to explore her origins, or Henry Creel's path to becoming Vecna.
This trend isn't going anywhere. In Stranger Things' next adventure, we'll see the past of Hawkins yet again, but in a brand new way.
While the wait for Stranger Things Season 5 keeps getting longer, fans do have something new to look forward to. Stranger Things: The First Shadow is a stage show set to open at the Phoenix Theatre in London on November 17, and will abandon the show's iconic 1980s setting for a story set 25 years earlier.
The Phoenix Theatre's website describes the show's plot:
Hawkins, 1959: a regular town with regular worries. Young Jim Hopper's car won't start, Bob Newby's sister won't take his radio show seriously and Joyce Maldonado just wants to graduate and get the hell out of town. When new student Henry Creel arrives, his family finds that a fresh start isn't so easy… and the shadows of the past have a very long reach.
A teaser trailer released on Wednesday hints at a much bigger impact, saying the show "will take you right back to the beginning of the Stranger Things story – and may hold the key to the end."
Stranger Things Season 5 will conclude the show. How can it be impacted by events set decades before the show began? Maybe the origins of the Upside Down stretch even further back than anyone realized, but considering how the series has delved deep into the metaphysical, maybe time travel is on the horizon.
Time travel has long been hinted at in Stranger Things, but the imagery reached new levels in Season 4. Vecna, aka Henry Creel, is strongly associated with the grandfather clock that became the season's iconic image. We even see him using his telekinetic powers to force its hands backward. That's not literal time travel, of course, but it's definitely a reference to it.
Some of Season 4's first lines also referenced time travel, with Eleven writing to Mike that "Joyce says time is funny like that. Emotions can make it speed up or slow down. We are all time travelers if you think about it." Is that foreshadowing for a time travel twist in Season 5? And could there be more time travel teases in the prequel?
The play's synopsis emphasizes Henry Creel, so this may just be a deep dive into his character and how he interacted with the now-adult characters we know and love. But knowing Stranger Things, the plot is bound to get complex — and possibly even time-bending. Hopefully, the show will be filmed for an eventual Netflix release, so fans outside of London can see what's to come.