Stranger Things 4 Volume 2 still needs to answer these 5 climactic questions
The Duffer Brothers still have a lot of explaining to do.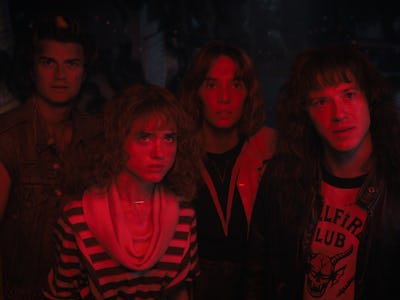 With less than a month to go until the final two episodes of Stranger Things Season 4 are released, fans don't have to wait much longer to get answers to their many questions. That said, the next few weeks are still sure to be busy with speculation about what's to come in Stranger Things Season 4 Volume 2.
The season's first batch of episodes offered a number of exciting and long-awaited revelations about some of the biggest mysteries of Stranger Things. However, Volume 1 of Stranger Things Season 4 also introduced several new mysteries. Here are the biggest five.
1. What is Vecna's connection to the Mind Flayer?
This may be the biggest mystery still surrounding Vecna (Jamie Campbell Bower). Season 4's seventh episode ends by revealing that Henry Creel, the son of Victor Creel (Robert Englund), became the first participant in the secret government program that Eleven (Millie Bobby Brown) would one day be forced into. The episode also reveals that Henry was banished to the Upside Down by Eleven and has been trapped there ever since, where he's slowly been turning into the monstrous entity known as Vecna.
These revelations do a lot to explain Vecna's actions throughout Stranger Things Season 4. However, it's yet to be revealed what Vecna's connection is to the Upside Down's supreme overlord, the Mind Flayer. Dustin (Gaten Matarazzo) posits that Vecna may be the Mind Flayer's "five-star general," but we don't know if that theory is correct. In fact, the Mind Flayer has yet to even appear in Stranger Things Season 4.
Hopefully, the season's final two episodes will offer up some clarity when it comes to Vecna's plans.
2. Are Steve and Nancy getting back together?
This question may be less high-stakes, but it's still very much on the minds of fans. After establishing an estrangement between Nancy Wheeler (Natalia Dyer) and Jonathan Byers (Charlie Heaton), the first seven episodes of Season 4 spend a lot of time setting up a possible romantic reconciliation between Nancy and her former boyfriend, Steve Harrington (Joe Keery).
However, Volume 1 ends before Nancy and Steve's apparent feelings for each other can be addressed. How will the love triangle be resolved? The upcoming episodes could very well see Nancy and Steve make it out of the Upside Down alive and, in the aftermath, get back together. Alternatively, the season could end with Nancy choosing to stay in her relationship with Jonathan. The third possibility is that Nancy or Steve could die before they get the chance to get back together, which seems like a very real possibility.
3. How do Hopper, Joyce, and Murray get back to America?
The seventh episode of Stranger Things Season 4 sees the imprisoned Hopper (David Harbour) finally reunite with his surprising rescuers, Joyce (Winona Ryder) and Murray (Brett Gelman). Their reunion is one of the most touching moments of the season, but it's also the last time we see the trio.
Volume 2 of Stranger Things Season 4 still has a lot of work to do before it can resolve its Russia storyline. Not only do the season's remaining two episodes have to follow Murray and Joyce's prison takeover through to its end, but assuming they and Hopper make it out alive they'll also have to present some way for the trio to get back to America.
Fortunately, Murray and Joyce still have Yuri (Nikola Đuričko) in their company, which means they still have access to a pilot. Don't be shocked if they stumble across a plane early in Volume 2.
4. Why is the Upside Down frozen in time?
In Stranger Things Season 4 Volume 1, it's revealed to the surprised of literally everyone that the Upside Down stopped being an accurate reflection of present-day Hawkins on the day Will Byers (Noah Schnapp) was taken there by a Demogorgon. In other words, time has essentially been frozen in the Upside Down since the start of Stranger Things.
That's a surprising and unexplained reveal, and fans will be looking for any possible answers to the mystery when Volume 2 drops in July. Unfortunately, the Duffer Brothers have hinted that the Upside Down's time freeze may not be explained this year, although it also sounds like fans will get enough hints to make some educated guesses.
5. Will Eleven be captured by the U.S. government?
Volume 1 of Stranger Things Season 4 concludes with Eleven finally facing the truth about her past. It's a development that suggests Eleven may have finally regained all her powers again.
However, Season 4's seventh episode also ends with several government agents heading for the underground lab where Eleven is being kept. Mike (Finn Wolfhard), Jonathan, Will, and Argyle (Eduardo Franco) are also heading to the lab, which means two very different parties are on the verge of reaching Eleven. The season's remaining two episodes will have to provide some closure to these three storylines and reveal whether Eleven manages to elude the government's grip yet again.
Stranger Things 4 Volume 2 premieres Friday, July 1 on Netflix.