Does Eleven get her powers back in Stranger Things Season 4?
The state of El's superpowers is fuzzy by the end of Volume 1.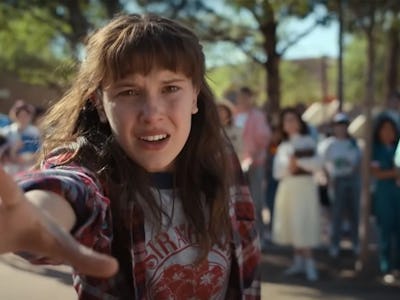 Not even nine straight hours of Stranger Things could deter fans from being glued to the screen for the entirety of Season 4 Volume 1 over Memorial Day Weekend. Viewers, eager to reunite with Eleven (Millie Bobby Brown) and all the members of The Party, couldn't get enough of the return of Netflix's supersized genre series, which arrived three years after the explosive Season 3 finale.
By the end of Volume 1, it's clear what will come next in the two movie-length episodes of Volume 2. It's time for Eleven to do what Eleven does best: Save all her friends from impending doom by crawling through The Upside Down.
What's less clear is how she'll pull it off.
How were Eleven's powers restored?
Eleven definitely has enough of her psionic powers back to slam a couple of secret laboratory guards against the ceiling, blast some lights, and get her iconic nosebleeds again. This is evident in the penultimate episode of Volume 1, "The Dive." Dr. Martin Brenner (Matthew Modine) finds Eleven just as she's hoping to escape his clutches yet again. Much to our young heroine's dismay, however, she's exhausted by this relatively small return of her abilities.
Eleven lost her powers at the end of Season 3, when she held-off The Mind Flayer. During one of her many encounters with it, Eleven was bitten by the shadowy demon, which leaves a parasitic piece of it wiggling around Hawkins, Indiana. While Hawkins Police Chief Jim Hopper (David Harbour) manages to squish the evil critter, it first sucked Eleven's powers like a leech.
Eleven's sudden loss of her telekinetic talents is a major issue for The Party, who are split between California, Indiana, and Kamchatka while juggling all sorts of threats, but also a huge embarrassment for Eleven, who pinned a lot of her personality to her psionic powers.
Eleven, however, is kidnapped and kept in an underground bunker to get her extraordinary faculties back through a series of sensory deprivation tank trials that thrust Eleven back to her traumatic experiences at Hawkins National Lab. This trip down memory lane, which showed us how the other children were treated and what their tragic fate was, triggers the restoration of Eleven's skills. As Brenner explains, Eleven getting to the center of her mind's maze was crucial for tapping back into her powers.
What will Eleven do in Season 4 Volume 2?
The real mystery for the remaining four hours of Season 4 is whether Eleven's powers will be enough to defeat Vecna on her own. While Eleven has been able to narrowly defeat Demogorgons, Demodogs, and the Mind Flayer, this is the first time that she's had to duel a humanoid monster capable of speaking and hunting like a psychopathic lone wolf.
Vecna is the most terrifying antagonist The Party has had to face, and Eleven may not be able to subdue him on her own. Volume 2 may see Eleven and her friends attempt to locate the surviving Hawkins National Laboratory experiments — like Season 2's Eight, Eleven's "sister" — so they can join forces and topple Vecna.
Stranger Things 4 Volume 2 will possess Netflix viewers on July 1, 2022.