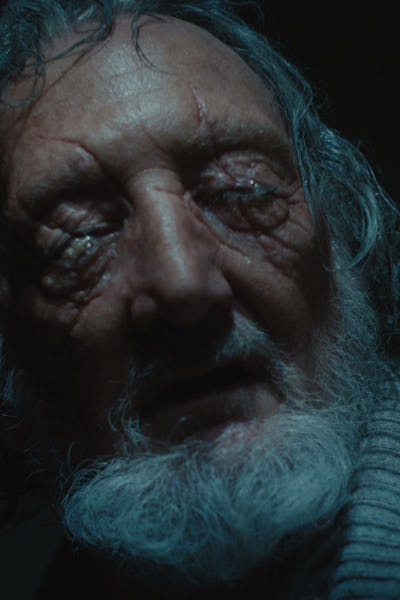 Netflix
"It had cursed our home."
Robert Englund's 'Stranger Things 4' cameo, explained: Who is Victor Creel?
The horror icon makes a short but pivotal appearance in the new season of the Netflix series. Learn more about Robert Englund's Victor Creel in 'Stranger Things 4.'
Nightmare on Elm Street and Stranger Things have quite a few things in common. Beyond the shared horror elements and the '80s setting, the two explore what it feels like to be terrorized by a larger-than-life evil entity. But now, the two beloved franchises cross over in a new, unexpected fashion, with Freddy Krueger himself appearing in Stranger Things 4. Spoilers ahead for Volume 1 Episodes 1-4 ahead.
Well, the Nightmare on Elm Street villain doesn't actually make a cameo in Stranger Things, but the actor who plays Freddy Krueger, Robert Englund, does. Englund's iconic performance as Krueger has made him a mainstay in the horror genre for almost 40 years. So it's pretty fitting to see the actor turn up in one of today's biggest supernatural horror series.
In Strange Things 4 Vol. 1 Episode 4, Englund appears as Victor Creel, the former owner of the haunted Creel House — the same mansion teased in numerous Stranger Things trailers. While Englund's role is brief, his appearance marks a crucial turning point in Season 4.
Robert Englund's Stranger Things cameo, explained
"Dear Billy," the fourth chapter in Stranger Things 4, is a high point in the series, with all 78 minutes coming together to create a riveting episode of television. That includes Robert Englund's performance as Victor Creel, who viewers meet for the first time in this episode.
With Hawkins dealing with another supernatural murder spree, Nancy (Natalia Dyer) and Robin (Maya Hawke) decide to follow a lead on a man named Victor Creel, who was convicted for murdering his family and is now locked up at Pennhurst Mental Hospital. The details surrounding the murder of Victor's family are strikingly similar to the recent unexplained deaths, and the Hawkins gang thinks Victor may be able to give them much-needed information about their new demonic foe, Vecna, that has just set its sight on another victim: Max (Sadie Sink).
With the clock ticking before Max falls under Vecna's possession, Nancy and Robin pretend to be college students to convince the hospital's head administrator to let them interview Victor for their "dissertation." The teens come face-to-face with Englund's Victor, whose old, haggard appearance and crudely cut-out eyes are a scary sight to behold.
Englund plays no villain in Stranger Things 4. Despite his guilty verdict, Victor reveals to Nancy and Robin the truth of what happened — how Vecna took over his household and killed his family and why he's stuck in a neverending nightmare because no one has ever believed him. By the end of his story, Victor whimpers in despair about how the "angel" that saved him didn't let him join his family in death.
Nancy questions Victor about the "angel," but he hums an Ella Fitzgerald song, "Dream a Little Dream of Me," which lured him out of a demon's waking nightmare and saved him from his family's fate. Robin and Nancy quickly deduce a critical, life-saving revelation: Music, especially a well-loved song, can travel through a person's consciousness to the Upside Down and break them out of Vecna's control.
Who is Victor Creel in Stranger Things?
Through Victor's narration, Stranger Things 4 unspools a sequence of flashbacks that reveal who Victor is and what happened back at Creel House back in 1959. Victor, his wife, son, and daughter move into an idyllic mansion in Hawkins, where everything is like "a fairy tale" for the first month. But then a series of creepy, supernatural events begin to happen around the home, spooking and unsettling the family.
The frequency of these occurrences begins to rise, and the father becomes convinced that a demon is cursing his new home and family. One evening during dinner, the invisible monster finally attacks, first killing Victor's wife, Virginia, and then trapping him and his kids in the house. To save his kids, he tries to ram the front door open, but when it opens, he falls into a dreamscape of Vecna's making.
Vecna likes to make his victims relive their most traumatic experiences, so the monster placed Victor back in France during this time as a soldier in World War II. Trapped in his memory, he reveals how he thought German soldiers were hiding inside a home, and he sets the building ablaze, later learning he was wrong and that a baby was inside. Ready to descend into guilt, misery, and death, Victor hears Ella Fitzgerald's "angelic" voice, guiding him out of Vecna's mental grip.
By the time he comes back to reality, his children are already dead, and Victor was charged with the murders and sent to spend the rest of his days at Pennhurst. While this seems like the whole of Victor's story, there is another important element that will later be revealed in Vol. 1 (which we won't spoil here). The mystery surrounding Victor might be resolved, but more terrifying secrets lie in wait at Creel House.
Stranger Things 4 Vol. 1 is now streaming on Netflix. Vol. 2 arrives on July 1.