Engage! Everything we know about Star Trek: Picard Season 2
Here's what to expect when Jean-Luc and the La Sirena crew return.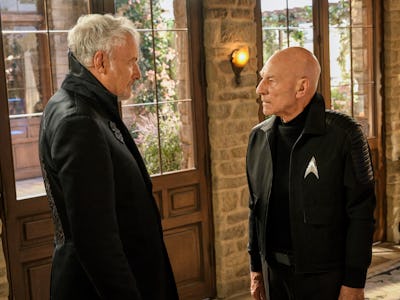 Picard is back, and he's bringing his greatest frenemy of all time with him! In Star Trek: Picard Season 2, John de Lancie will return as the mischievous space god known as "Q," and it looks like the entire timeline will change as a result. Unlike the 2399 setting for Picard Season 1, the second season will take the crew into an alternate future, and back to the 21st century in the year 2024!
So what's going on with this Next Generation sequel series, two years after its first season? From the release date to the guest stars and hints about the actual storyline, here's everything we know so far about Star Trek: Picard Season 2. Let's make it so!
Spoilers ahead for all of Picard Season 1.
Will there be a Season 2 of Star Trek: Picard?
Yes. Even before Picard Season 1 premiered on CBS All Access — now known as Paramount+ — the second season was already confirmed. The COVID-19 pandemic delayed the production of Season 2 by nearly a full year, but it was announced on April 5, 2021, that Season 2 had started filming. Presently, Season 2 has completed filming, with Season 3 being filmed back-to-back.
What's the Star Trek: Picard Season 2 release date?
Star Trek: Picard Season 2 will be released on March 3, 2022, on Paramount+. Previously, the show was scheduled to be released in February but now will air in March for 10 episodes, released weekly. This schedule will overlap with the ending of Discovery Season 4 and the debut episode of Strange New Worlds.
Is there a Star Trek: Picard Season 2 trailer?
There are several trailers for Star Trek: Picard Season 2. Most of the trailers essentially reveal the same thing: The crew is headed back to 2024 to fix some kind of change to the timeline. In the most recent trailer, Whoopi Goldberg's Guinan returned.
Who is the showrunner for Star Trek: Picard Season 2?
Though novelist Michael Chabon was the showrunner for Picard Season 1, he handed control of the writers' room over to Terry Matalas, who will serve as the showrunner for Season 2, with producer Akiva Goldsman as co-showrunner. (Goldsman is also co-showrunner on Strange New Worlds with Henry Alonso Myers.
Back in 2020, Chabon indicated he wasn't leaving Picard though, and will still be writing episodes of the series, and helping to shape the overall story. It's unclear if this is still the case.
The new showrunner, Terry Matalas, was previously the executive producer on the SyFy 12 Monkeys reboot, a time-travel epic also about undoing something in the past to fix the future. Matalas is the showrunner for both Season 2 and Season 3 of Picard. Matalas also worked as a production assistant and writer on both Voyager and Enterprise. Along with Brannon Braga and Travis Fickett, Matalas also wrote the 2012 IDW Star Tek comic "Hive," which was all about Picard, Seven of Nine, and the Borg Queen!
Speaking to SFX ahead of the launch of Picard Season 2, Matalas said he considered Season 2 to be "an intimate story" but "epic in scope." He's also teased that Season 3 will have "some game-changing Star Trek Universe ideas."
Will Data return in Star Trek: Picard Season 2?
Brent Spiner has said emphatically he will not play Data again. This means the dream sequences and the "quantum simulation" scenes of Data in the Picard Season 1 finale are pretty much it. Data is dead. (For good this time.) However, Spiner revealed to Inverse in 2021 that he'd be playing a new member of the Soong family who we'd never seen before. This was confirmed in the final trailer for Picard Season 2, in which we see a 21st-century man played by Brent Spiner, presumably an ancestor of Arik Soong, Noonian Soong, and Altan Soong.
Who is in the Star Trek: Picard Season 2 cast?
Based on the trailers and officially released material, here's who is 100 percent in the cast for Picard Season 2.
Sir Patrick Stewart as Jean-Luc Picard
Michelle Hurd as Raffi
Santiago Cabrera as Rios
Alison Pill as Dr. Jurati
Jeri Ryan as Seven of Nine
Isa Briones (though we're not sure if she's playing Soji!)
Evan Evagora as Elnor
John de Lancie as Q
Orla Brady as Laris
Whoopi Goldberg as Guinan
Annie Wersching as the Borg Queen (the third actress to play the part.)
What is the plot of Star Trek: Picard Season 2?
It's not entirely clear how much time Picard Season 2 will spend in the "present" it left in Season 1. The end of Season 1 had a definitive ending, and the crew of the La Sirena could have literally gone anywhere after that finale.
So far, it looks like Season 2 will introduce a bizarre alternate timeline in perhaps, the very first episode. Some of the trailers have led us to believe that Q is the cause of this change, but other trailers made it seem like time-traveling Vulcans or Romulans might play a part. Either way, because of Terry Matalas' background with 12 Monkeys, there's no reason to believe this time-travel caper will play out like other Trek time-travel stories.
Instead, there's every reason to believe that what we've seen in the trailers is nothing compared to what's being still hidden. "
What's after Picard Season 3?
It's been indicated that Season 3 of Picard (currently filming) will be the final season of this specific show. However, both Goldsman and Matalas have already indicated that the characters and time period of Picard could set up additional shows in the same time frame.
"What more is coming in that story? It's definitely my favorite time period," Matalas said in January 2022. "To me, Star Trek: Picard is the present day of Star Trek. And what's going on in that particular world is very important to me. So stay tuned, that's what I'll say."
Around the same time, Star Trek boss Alex Kurtzman has hinted that there's another show lined up that he won't reveal yet at all. Whether that series is a continuation of Picard or something else isn't quite clear yet. But, for now, expect at least 20 more episodes of Picard and then, who knows, in 2024, perhaps another series set in the early 25th Century.
Star Trek: Picard Season 1 is streaming now on Paramount+. Season 2 drops on March 3, 2022.
This article was originally published on