Only Raising Puppies Beats Playing Jennifer on '12 Monkeys'
"I feel it's only all downhill from Jennifer."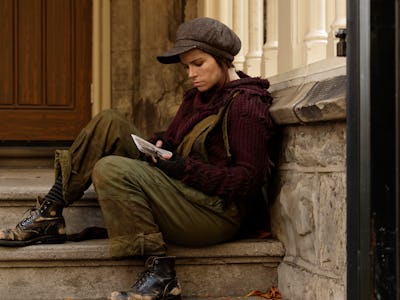 Syfy
Syfy's 12 Monkeys is gearing up for a binge-worthy, weekend-consuming third season. All 10 episodes of Season 3 will air this weekend, spread across three nights. The time-hopping science fiction show, based on the 1995 film of the same name starring Bruce Willis and Brad Pitt, left its heroes spread across time at the end of Season 2. Jennifer Goines, portrayed by Emily Hampshire, is one of the few characters with insight into what the hell is actually going on, and it's a role Hampshire knows will be hard to beat.
"I feel it's only all downhill from Jennifer," Hampshire tells Inverse. "I really do feel like I hit the jackpot here."
In Season 2 of 12 Monkeys, it was revealed that Jennifer is a Primary, an evolved human being who's indefinably linked to time with the ability to see the changes that occur, as well as keep track of multiple timelines at once. That's enough to drive anyone mad, and it's why Jennifer rants and raves and earns the "crazy" label from everyone in the show, including her father. It's also what makes Jennifer, in Hampshire's mind, a role that will be hard to beat.
"When do you, as an actor in one show, in one part, get to play yourself at 65, get to be in the '80s?" Hampshire says. "Jennifer's always role-playing and putting herself, fully committed, into these crazy situations. I don't know when I'm going to get that. I can't imagine ever getting that chance again."
Jennifer's supposed insanity is what makes fans and Hampshire alike love the character so much. It's also, Hampshire says, what makes her so powerful.
"Anyone who is, quote, unquote, crazy or does things differently, like Jennifer does, I feel like they are often the truth-tellers in society," Hampshire says. Jennifer's part as a Primary might have once been a curse and more than a little complicated within the mythology of the story, but the complications of the character and Hampshire's role are what, she says, makes 12 Monkeys such a good story.
"To me, the greatest storytelling is the truth made digestible and explainable," Hampshire says. "Some people, like Jennifer, would probably understand quantum physics and all that stuff. Profound truths told to you through amazing storytelling is, I think, not only great television but also great science fiction."
And Hampshire's Jennifer is the epitome of science fiction. Considered by most fans to be the best part of 12 Monkeys, Jennifer is the female, TV version of Brad Pitt's Jeffrey Goines and a bit of a sci-fi staple: the character who knows too much; the "crazy" one with all the answers who no one ever listens to. It would be easy enough for Hampshire to fall into another sci-fi role after 12 Monkeys airs its fourth and final season.
But because of her love for the role, Hampshire doesn't fear being typecast.
Admittedly not a life-long fan of science fiction — "This show, if it didn't have the storytelling and the characters in it, and you told me it's a time travel show on Syfy, I'm not watching that. I'm watching Making a Murderer" — Hampshire finds she'd be happy to work on another sci-fi project. It shouldn't be a problem if the story and character are filled with the same life and diversity as 12 Monkeys and Jennifer Goines.
And if they're not?
"If there is nothing better, I would actually prefer to maybe live on the beach in Miami but breed puppies," Hampshire says. "Lots of puppies. I need something so great that it is equal to Jennifer Goines — or come and buy puppies from me."
All 10 episodes of 12 Monkeys Season 3 air on Syfy for three consecutive nights beginning May 19.