Syfy's '12 Monkeys' TV Series Renewed for Season Three
The best sci-fi show on TV will be back for a third season.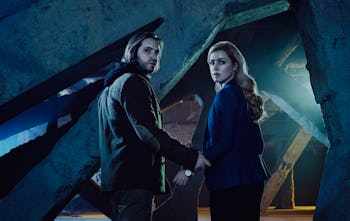 According to Entertainment Weekly, Syfys cult hit 12 Monkeys has been renewed for a 10-episode third season. The news is undoubtedly joyous for the series devoted fanbase, whove been anxious over reports of diminished ratings in the show's excellent second season.
There were congratulations all around as showrunner Terry Matalas praised Syfy and NBCUniversal's Universal Cable Productions as "incredible creative partners". Matalas has spent a large portion of the show's lauded second season working to get real time viewers, often taking to Twitter to engage in some fan love as well as actively using the social media outlet to live Tweet during 12 Monkeys episodes.
The plan seems to have worked with NBC execs who lavished compliments on the series, calling it "one of the best shows on television," as well as the showrunner and its enthusiastic fanbase. This is a small victory; Matalas' work is far from over. According to the showrunner himself to tell the story right would require four full seasons. What a 10-episode pickup (as opposed to its typical 13) means for the future of the show is uncertain.
The pressure still isnt off Syfys critically acclaimed time-traveling series, though the news of a third season is definitely one for the win column. Here's hoping the series' summer streaming numbers will keep it a viable option for NBCUniversal moving forward.
Syfy's 12 Monkeys is wrapping up its second season now (and you should absolutely catch up). The show stars Amanda Schull, Aaron Stanford, Emily Hampshire, Kirk Acevedo, Barbara Sukowa (hopefully), and Todd Stashwick.