Rick and Morty Ruined the Multiverse For Everybody Else
And I mean that in a good way.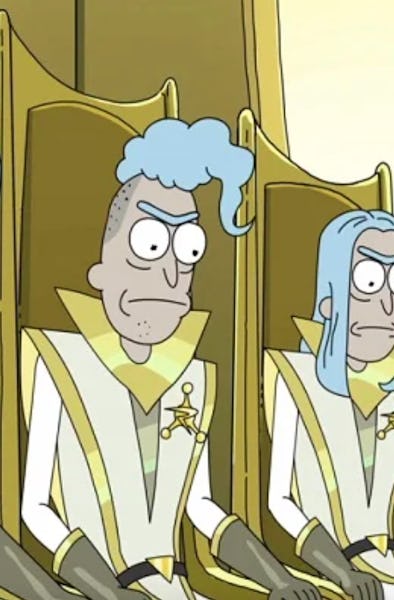 Let's make one thing clear: while it may not exactly be a cool thing to admit these days, I still like Rick and Morty. And despite the current discourse (read: one annoying viral tweet that won't be linked to here), I think it's clear that the animated series has a deep love for the science-fiction classics it endlessly remixes and recycles into creative new tropes. But when it comes to one classic sci-fi trope, Rick and Morty may have taken things too far.
In the past few years, the multiverse has gone from fringe sci-fi trope (and fringier scientific theory) to mainstream parlance. This is in large part thanks to Marvel Studios, which is currently building an entire "Multiversal Saga" of interconnected movies. Meanwhile, DC is doing something similar with The Flash, while Sony's Spider-Man: Across the Spider-Verse is part two of a three-part multiverse odyssey.
Unfortunately, while Rick and Morty didn't get their first, the R-rated cartoon did such a good job with its multiverse that everything else seems to pale in comparison, especially when it comes to a classic concept: the multiversal council.
The Council of...
As far as I can tell, the concept of a bunch of versions of the same character from different parallel dimensions getting together to form a secret society can be traced back to the Council of Kangs, which first appeared in Avengers (1963) #267 (published May 01, 1986). In the panel above, an entire arena filled with infinite Kangs assembles. It's an image that was recently replicated in the post-credits scene of Ant-Man and the Wasp: Quantumania.
The idea was somehow both simple and incredibly complex, and it spawned countless imitators. Fantastic Four #570 (August 2009) introduced the Council of Reeds, a multiversal consortium of Mister Fantastics. And The CW's The Flash series invented the Council of Wells. Most recently, Spider-Man: Across the Spider-Verse tries something similar, with mixed results...
Warning: Spoilers ahead for Spider-Man: Across the Spider-Verse
Rick and Morty vs. the Spider-Verse
The first big twist in Across the Spider-Verse comes when protagonist Miles Morales is finally invited to meet the secret society of Spider-Men (and women, and cats, and dinosaurs) from across the multiverse. However, he soon learns that they aren't all they're cracked up to be. The group's leader, Spider-Man 2099, lives by a rigid code that demands no one deviate from what he believes is destined to happen, no matter how horrific that might be.
If the concept of a multiverse council of superheroes that should be good but turn out to be evil sounds familiar, well, it should be. That's basically what happened with the Council of Reeds, but most notably, that's exactly what happens in Rick and Morty.
"You wanted to be safe from the government so you became a stupid government," our defiant Rick tells the council of his own variants in Season 1 Episode 10, Close Rick-Counters of the Rick Kind. "That makes every Rick here less Rick than me."
As per usual, Rick and Morty nails it. The problem with theoretically assembling a thousand versions of yourself and teaming up is that whatever good intentions you may start out with, you'll probably wind up doing more harm than good in the long run. That's the message of Across the Spider-Verse (or at least one of them, it's a long movie), and it's probably also going to be the message of Marvel's Multiversal Saga.
Too bad for both of them, Rick and Morty got there first — and managed the skewer the concept in a way only Rick Sanchez can.