Secret Invasion Episode 6 Release Date, Start Time, and Plot
It's the end of the road.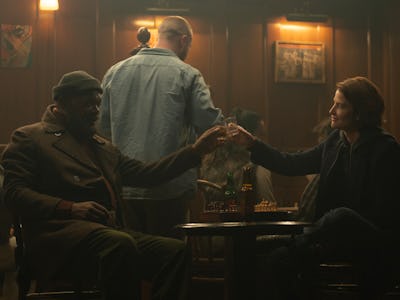 Marvel Studios
After six wildly uneven weeks, Marvel's latest limited series is coming to an end. Secret Invasion hasn't been everything fans expected, but it has delivered a few pleasant surprises in its limited run. It's been great to watch Samuel L. Jackson and his team of shadowy, misunderstood operatives finally take center stage — though it would have been even better if they'd been given a bit more to do.
Either way, Secret Invasion has one final chance to stick the landing. Will Episode 6 find a way to connect the dots, and deliver a fitting swan song for Nick Fury? Is anyone else a Skrull in sheep's clothing? Will those shapeshifting aliens ever find their forever home? Let's hope all these questions are answered in the season finale.
What day does Secret Invasion Episode 6 release?
Episodes of Secret Invasion drop weekly on Wednesdays, and Episode 6 premieres on July 26.
What time does Secret Invasion Episode 6 drop?
Secret Invasion Episode 6 will be available to stream at 3:00 a.m. EST (12:00 a.m. PST).
How many episodes of Secret Invasion are left?
Secret Invasion is a six-episode miniseries, so Episode 6 serves as the series finale.
Is there a trailer for Secret Invasion Episode 6?
There's no episode-specific trailer for the finale, but Marvel Studios released a trailer to prepare fans for Secret Invasion's final episodes. Check it out below:
What is the plot for the Secret Invasion finale?
In the fifth episode of Secret Invasion, Fury effectively became the most wanted man in the world. Even after saving the U.S. President in Episode 4, he's still on the back foot against the Skrulls embedded in the U.S. government. He teams up with MI6 agent Sonya Falsworth (Olivia Colman) at the end of episode 5, and he's preparing for an imminent showdown with Gravik.
Hopefully, Episode 6 will deliver on some more action — especially now that G'iah (Emilia Clarke) and Fury's wife Priscilla (Charlayne Woodard) have teamed up as well.
Will there be a Secret Invasion Season 2?
At this point, no. The series was described as a "television event," which means that this season will be the only one. The characters that survive the events of the finale will likely play a role in future MCU projects, and could continue the threads that Secret Invasion leaves behind.
Secret Invasion is streaming on Disney+.