Secret Invasion Episode 2 Release Date, Start Time, and Plot for Marvel's Latest Series
Nick Fury's fight continues.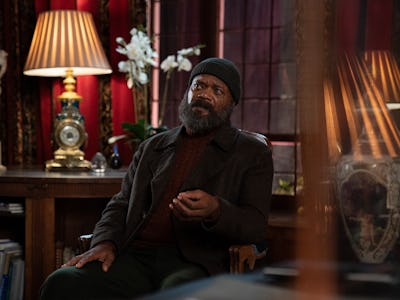 Gareth Gatrell/Marvel Studios
After a shaky start, Marvel's Cinematic Universe is chugging into Phase 5 with Secret Invasion. The new series is poised to deliver a shot of adrenaline to a franchise entering its 15th year, and so far, it's been promising.
Secret Invasion shares its title with a beloved comic book event, and though it's diverging from the comics in a few major ways, at least the Skrull are finally taking center stage. The shapeshifting aliens were major comic antagonists, but their role in the MCU is a bit more complicated. That just makes Secret Invasion's conflict more interesting, especially where leading man Nick Fury (Samuel L. Jackson) is concerned.
The first episode of Secret Invasion saw Fury returning to Earth to deal with an unruly Skrull uprising, and quickly realizing that he can't hold back the storm alone. The fight continues in Episode 2, which will hopefully deliver more of the action that came in fits and starts in Episode 1.
When does Secret Invasion episode 2 release?
Secret Invasion airs weekly on Wednesdays. Episode 2 hits Disney+ on June 28, 2023.
What time will Secret Invasion episode 2 be available?
New episodes of Secret Invasion are available to stream at 3:00 a.m. EST (12:00 a.m. PST) each Wednesday.
How many episodes will Secret Invasion have?
Secret Invasion is a six-episode series. Episode 2 already puts us a third of the way through the season, but with episodes reportedly running longer than other six-episode Marvel shows, Secret Invasion may feel just a bit more substantial.
Does Secret Invasion have a trailer?
Marvel Studios dropped the first Secret Invasion trailer back in September 2022, and has steadily been rolling out additional trailers, exclusive clips, and behind-the-scenes featurettes ever since. However, Marvel has yet to drop any clips for Episode 2, which may mean it's a doozy.
What is the plot of Secret Invasion episode 2?
At the end of Episode 1, Nick Fury faced off with General Gravik (Kingsley Ben-Adir), the ruthless rebel leader looking to conquer Earth for the Skrulls. And for the first time in a long time, Fury found himself on the back foot. Episode 2 will likely pick up right where the series premiere left off, with Fury working to avoid an all-out war between America and Russia. Fury's allies are also dwindling, so he'll have to get crafty to thwart Gravik and his forces.
Will there be a Secret Invasion season 2?
There's been no word on a second season for Secret Invasion yet. Marvel has been touting the series as a "television event," which means it may take the same one-off approach as WandaVision or Moon Knight. These six episodes will likely be wrapping up the story of the Skrull invasion in one fell swoop, but this is the MCU, so there's a high chance some characters and plots will continue in other projects.