What Time Does Rick and Morty Season 7 Come Out?
Everything you need to know about the highly-anticipated season premiere.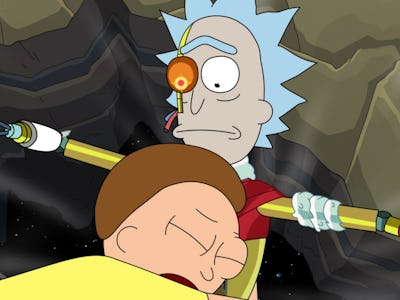 Only 10 brisk months have passed since Rick and Morty Season 6 wrapped with an episode where Morty foolishly dropped a lightsaber blade down into the planet. Now, the Smith family and Grandpa Sanchez are about to return in Season 7. Ahead of the big premiere, here's everything you need to know from the release date and time of Rick and Mort Season 7 Episode 1, along with the episode title, trailers, and more.
What Happened in Rick and Morty Season 6?
Following the destruction of the Citadel in the Rick and Morty Season 5 finale and Evil Morty yeeting himself out to a place beyond the Central Finite Curve, Season 6 sets up Rick Prime as the primary Big Bad. Portal technology is disabled for most of the season, leading to a lot of one-off cosmic adventures set in the main dimension. The Season 6 finale, however, pivots the focus back to the evil Rick Prime, but when has Rick and Morty ever focused on serialized arcs?
Who Voices Rick and Morty Now?
Series co-creator Justin Roiland voiced both Rick and Morty since the beginning of the series but was fired by Adult Swim in January 2023 following multiple allegations and charges that were later dismissed. Regardless, Adult Swim recast the roles but has yet to publicly announce who.
Executive Producer Steven Levy did say at San Diego Comic-Con 2023 in July that the new actors would be "sound-alikes." And there's at least one very convincing theory out there that it may be Looney Tunes star Eric Bauza. We won't know until the credits roll on the premiere.
When Is the Rick and Morty Season 7 Release Date?
Rick and Morty Season 7 premieres on Sunday, October 15.
When Is the Rick and Morty Season 7 Release Time?
New episodes debut at 11 p.m. Eastern.
How Can You Stream Rick and Morty Season 7?
There's no easy way to stream Rick and Morty Season 7 unless you have cable or something resembling it like YouTube TV. If you do have cable, it'll air on Cartoon Network. You can also watch the livestream simulcast on the Adult Swim website, but that still requires a cable service provider login.
One alternative is to buy a season pass on a service like iTunes or Amazon, in which case new episodes drop by the following morning.
How Many Episodes of Rick and Morty Season 7 Are Left?
Like almost every other previous season, Rick and Morty Season 7 is slated to have a total of 10 episodes, which means that we've got nine left after the premiere.
What is the Plot of Rick and Morty Season 7 Episode 1?
The episode is called "How Poopy Got His Poop Back" and considering the fact that Mr. Poopybutthole is featured in the Season 7 trailer, it's safe to say he'll be a part of it.
Rick and Morty loglines are always a bit wacky, but this one is, "Broh, come out with us, you're being so boring, dude." So perhaps a group goes out?
Is There a Trailer for Rick and Morty Season 7 Episode 1?
There are no trailers or promos yet for the premiere itself, but Adult Swim did release a Season 7 trailer that you can watch below.
Will There Be a Rick and Morty Season 8?
Absolutely. The series was renewed for 70 more episodes back in May 2018, which means we're due for Rick and Morty Seasons 8, 9, and 10 at the very least.