Marvel's Biggest Controversy Might Radically Change Avengers: Secret Wars For the Better
The sun may already be setting on Kang the Conqueror.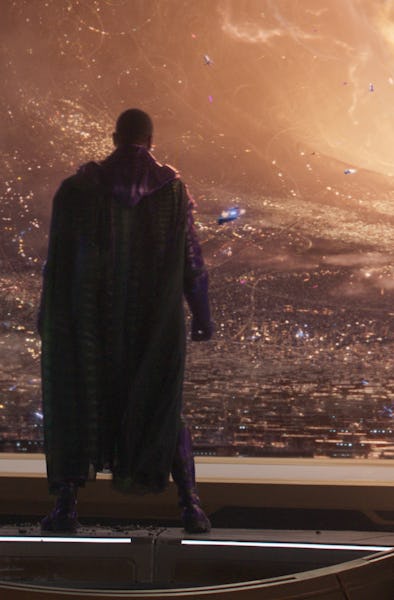 Marvel Studios
There might have been a time when the MCU was too big to fail, but a rough streak at the box office, coupled with a revolving door of bad press, has Marvel Studios scrambling for a solution. A recent tell-all from Variety reveals the crux of the studio's issues as it moves from Phase 5 to Phase 6: underwhelming buzz is certainly a concern, but the biggest problem may be all the controversy surrounding actor Jonathan Majors.
Majors' Kang the Conquerer has long been touted as the MCU's next supervillain. Much like Thanos was once the Big Bad that Marvel's disparate heroes rallied against in Avengers: Endgame, everything now points to Kang. The Multiverse Saga hinges on the villain and his many variants, and before Majors was arrested on charges of domestic abuse in March 2023, he would have dominated the MCU until the next Avengers team-up, The Kang Dynasty. Majors is still awaiting trial, but other assault allegations have surfaced, and ad campaigns and management companies have dropped him.
It's getting harder for Marvel to ignore this. Kang played a major role in Ant-Man and the Wasp: Quantumania, and Loki Season 2 continues to expand on his importance to the Multiverse Saga. It's possible Majors' role could be recast, but insiders at Variety have noted another way forward, one that would see Kang and his variants sidelined to make way for a new villain waiting in the wings.
In September, per Variety, Marvel Studios president Kevin Feige assembled a group of Marvel creatives for their annual retreat. The issue of Kang was a hot topic, and executives apparently discussed "backup plans" at length. One option involves a pivot to another formidable Marvel villain, Doctor Doom.
The timing is perfect: with a Fantastic Four reboot in development, Doom's introduction is inevitable. He's also a massive presence in Secret Wars, at least in Jonathan Hickman's 2015 adaptation of the comic storyline, and Secret Wars is the Avengers movie on deck after The Kang Dynasty. If anything, a pivot to Doom would be faithful to the source material, as making Kang the focus of Secret Wars would be a radical rewrite. Comics aren't sacred texts, but Marvel has enough problems right now without also trying to completely rework one of their most beloved stories.
Kang still looms large over the MCU, and until Loki Season 2 ends, we won't know just how important he'll be to its future. But there's enough time to pivot if Marvel acts quickly. The Kang Dynasty is set to release in 2026, just one year before Secret Wars. It's safe to assume the films will be thematically related, much like the last two Avengers films, so there's an opportunity to rework the conclusion to Phase 6 with a new villain at the helm.
Fans have already speculated that Doom will rise up as the main antagonist in Secret Wars, given his central role in the comics. He may not seem as powerful as Kang on paper, but countless villains have underestimated him at their peril (he murders Thanos with his bare hands in Hickman's Secret Wars, so nothing is off the table). There are few more qualified to fill Kang's shoes than Doom, so if Marvel plays its cards right, Phase 6 could introduce him as a replacement without rocking the boat. Kang Dynasty could even be removed from the MCU slate altogether, with a two-part Secret Wars taking its place.
A lot hinges on the MCU projects already in the pipeline, but Marvel is in a unique position. The dual actors' and writers' strikes forced most Hollywood productions into limbo, and with writers only recently returning to work, Marvel is essentially starting from square one. Secret Wars could hold the key to solving its biggest controversy yet; Feige and Marvel Studios only need to plan accordingly.