Loki Trailer Easter Egg Reveals a Shocking New Variant
The show's most mysterious new character dons a familiar jumpsuit.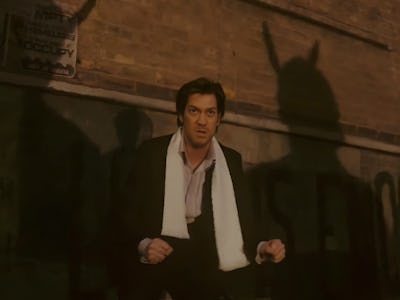 Marvel Studios
Loki Season 2 is bringing back a lot of familiar faces: beyond the Trickster God himself, there's Sylvie, his female variant; Mobius, the TVA agent he's partnered with; and Kang the Conqueror, who we first saw as TVA head honcho He Who Remains. But there are also new faces, including Ke Huy Quan as another TVA agent rumored to be named Oroborous, and Rafael Casal as actor Brad Wolfe. Thanks to a new promo for Loki Season 2, we finally know what role Wolfe will serve, and it's one Loki knows all too well.
As part of McDonald's "As Featured In" campaign, clips from Loki Season 2 were released as a teaser for the show's October 6 release date. In the first clip, we see Sylvie — or, at least, a version of Sylvie — standing behind a McDonald's counter while Loki approaches. At the end, we revisit the McDonald's and see Mobius and Brad Wolfe "enjoying a meal like gentlemen."
But just who is Brad Wolfe? We only know his name because of a sign in the full trailer. As he leaves a theater, we see a fan holding a sign that says, "Marry Me Brad Wolfe."
In Thor #319, published in 1982, Brad Wolfe is an actor portraying the monster Zaniac, though he goes a bit too method and becomes possessed by the actual Zaniac, a parasitic entity from the Dark Dimension. This will definitely play into Loki Season 2, as Zaniac is the movie advertised on the theater's marquee.
But what's new in this clip is that Wolfe is dressed in the same variant jumpsuit that Loki donned for much of Season 1. What could he have done to disrupt the timeline the TVA is enforcing in a post-Kang world? Was he possessed, like in the comics? Are Loki and Mobius trying to stop him, or save him from an outside force? Just how many Wolfe variants will be running around? It seems odd that an actor would cause a major disturbance in the timeline, but then again, big-time actors can be ancient Eternals in the MCU. We'll find out what Wolfe is up to soon, but whatever his role in Loki Season 2, it's going to be a big one.
Loki premieres October 6, 2023 on Disney+.